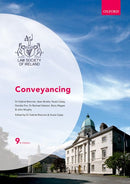 Description
Published: April 2019
ISBN: 9780198839521
Publisher: Oxford University Press
Country of Publication: Ireland

Conveyancing
Ninth Edition

Edited by Gabriel Brennan, Nuala Casey, Sean Brodie, Deirdre Fox, Rachael Hession, Barry Magee, and John Murphy
Law Society of Ireland Manuals
Published during a time of ongoing reform and modernization, the manual gives an up-to-date account of conveyancing practice in Ireland, providing trainee and practising solicitors with all the essential knowledge needed to work in this area
The book offers a clear description of the subject, making it easier for students to grasp the essential points of property law such as the buying and selling of property and the arranging of loans, the preparation of title deeds, leases and other legal documents
Sample documentation and precedents are included to help trainee solicitors to understand the procedural aspects of conveyancing law which will be vital to them in practice
New to this Edition:
Detailed explanation of 2019 Pre Contract Investigation of Title (PCIT) procedure
Updated diagrams in Chapter 2, showing the detailed steps in a conveyancing transaction
Features up-to-date Law Society precedents, including the 2019 Contract for Sale and the 2019 Requisitions on Title, with sample Contract for Sale special conditions
Expanded guidance on Land Registry practice in relation to seals and powers of attorney, and sample Statements of Title for first registration applications
Chapter 11 on Planning has been completely revised to reflect developments in the law.
Contact Us
Contact Us
LegalBooks.ie
Legal & General Shop
The Law Society Building
The Four Courts
Dublin 7
01 8725522
info@legalbooks.ie
D07 N972

VAT number: IE4814267p


Payment & Security
Your payment information is processed securely. We do not store credit card details nor have access to your credit card information.