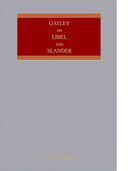 Description
Gatley on Libel and Slander
12th Edition, Mainwork & Supplement
Series: Common Law Library
Practice Area: Defamation
ISBN: 9780414052635
Published by: Sweet & Maxwell
Authors:Richard Parkes, QC; Professor Alastair Mullis; Godwin Busuttil; Adam Speker; Andrew Scott; Chloe Strong
Publication Date: 13 Dec 2017
Subscription Information: Non-Subscribable Product
Format: Hardback

Provides an authoritative and comprehensive guide to the law of defamation. The twelfth edition is substantially revised to cover recent case law (domestic, Commonwealth and Strasbourg) and important legislation including the Defamation Act 2013
Includes expert commentary and analysis of substantive defamation law, including discussion of all significant recent English case law
States the English law of defamation as it stands prior to the coming into force of the Defamation Act 2013
Discusses the Defamation Act 2013 and its impact on English law and practice
Offers detailed coverage of the relevant procedure and guidance on practising in defamation law and other related areas of law
Includes reference to cases from other jurisdictions with commentary on their relevance to English law and procedure, in particular decisions from Australia, New Zealand, Canada and Hong Kong
Discusses the jurisprudence of the European Court of Human Rights and the impact of the Human Rights Act 1998 on defamation law and privacy
Explains the constituents of related causes of action arising from the publication of statements and images, e.g. misuse of private information, breach of confidence, and harassment, and the defences to such claims, and discusses recent case law on these topics
Deals first with substantive law and then with procedure, clearly separated into chapters and sections
Sets out key legislation
Includes summaries of libel awards in the appendix material
The Second Supplement includes full updates on all developments in defamation case law, both substantive and procedural, including analysis of the effect on English law and practice of the Defamation Act 2013, and in particular:

Discussion of the impact of the Court of Appeal's highly important decision in Lachaux v Independent Print Ltd [2017] EWCA Civ 1334, [2018] EMLR 1 on the construction of s.1 Defamation Act 2013
Consideration of recent authorities on liability for third party content (Google Inc v Trkulja [2016] VSCA 333, Delfi v Estonia (2016) 26 EHRR 6, MTE and Index.hu Zrt v Hungary Application no.22947/13 and Tamiz v UK Application no. 3877/14)
Analysis of authorities interpreting Defamation Act 2013
Comprehensive guidance for practitioners of the effect of the demise of jury trial in defamation, and its impact on preliminary determination of issues, including questions of meaning and serious harm
In misuse of private information, discussion of Weller v Associated Newspapers Ltd [2015] EWCA Civ 1176; [2016] 1 WLR 1541, PJS v Times Newspapers Ltd [2016] UKSC 26; [2016] AC 1081, which considers the concept of public domain and raises important questions about the interests protected by the tort, and Khuja v Times Newspapers Ltd [2017] UKSC 49; [2017] 3 WLR 351, which concerns the balance to be struck between the article 8 rights of those arrested but not charged and the public interests in open justice and free speech, and where there are interesting observations on the overlap between defamation and misuse of private information
Discussion of ambit of Protection from Harassment Act 1997 in media publication cases

All the latest developments in libel and slander, malicious falsehood and privacy from here and overseas are covered in this second supplement to the twelfth edition of this title.
 
 
Contact Us
Contact Us
LegalBooks.ie
Legal & General Shop
The Law Society Building
The Four Courts
Dublin 7
01 8725522
info@legalbooks.ie
D07 N972

VAT number: IE4814267p


Payment & Security
Your payment information is processed securely. We do not store credit card details nor have access to your credit card information.