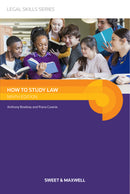 Description
Authors: Anthony Bradney, Fiona Cownie, Judith Masson, Alan C. Neal
ISBN: 9780414088078
Previous Edition ISBN: 9780414061538
Published: June 2021
How to Study Law equips new law students with the vital foundation skills for the successful study of law. It introduces students to the system and sources of English law, and goes on to demonstrate how to find, read and analyse a variety of legal materials - cases, statutes, articles and research reports - in print and online, using original sources. Diagrams, worked examples and practical exercises allow students to practice and test their new skills. Learn precisely How to Study Law with this practical guide for all new law students:
-          Read about the various sources of English law and the structure of the National, European and International law
-          Learn how to use a law library, print and online resources, plus crucial legal databases such as Westlaw UK
-          Get detailed pointers for navigating your way around complex legal materials
-          Gain valuable tips on writing assignments, revising for and taking exams, and giving oral presentations
-          Use the exercises throughout the book to practise what you learn and to hone your lawyerly skills
-          Appendices include a handy list of abbreviations for the key journals and law report series, advice on care
Contents:
Part 1
Chapter 1 Sources of the law
Chapter 2 Divisions of law
Chapter 3 Law and its Social Context
Part 2
Chapter 4 Finding cases and statutes
Chapter 5 Reading cases and statutes
Chapter 6 Legal Reasoning in Judgments
Chapter 7 Statutory Interpretation
Chapter 8 Reading research materials
Chapter 9 Studying at University
APPENDIX I MOVING ON: FURTHER STUDY AND CAREERS
APPENDIX II ABBREVIATIONS
APPENDIX III EXERCISE ANSWERS
APPENDIX IV FURTHER READING
Contact Us
Contact Us
LegalBooks.ie
Legal & General Shop
The Law Society Building
The Four Courts
Dublin 7
01 8725522
info@legalbooks.ie
D07 N972

VAT number: IE4814267p


Payment & Security
Your payment information is processed securely. We do not store credit card details nor have access to your credit card information.