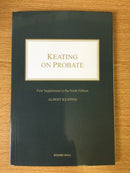 Description
Author : Albert Keating
Publisher: Round Hall
Publication Date: 10/03/2021
ISBN: 9780414088917
Jurisdiction: Ireland
This is a Supllement to  Keating On Probate 6th edition
KEATING ON PROBATE - FIRST SUPPLEMENT TO THE SIXTH EDITION
 First Supplement to the 6th edition brings the main volume up to date with the latest developments in probate law and practice including: 
- The new and important technical probate rules introduced in September 2020
- Recent and important case law
- Recent rules and principles relating to discovery of documents, security for costs of discovery and interrogatories
- The new principles of costs introduced by the Legal Services regulation Act 2015 and Rules of the Superior Courts (Costs) 2019.
Contact Us
Contact Us
LegalBooks.ie
Legal & General Shop
The Law Society Building
The Four Courts
Dublin 7
01 8725522
info@legalbooks.ie
D07 N972

VAT number: IE4814267p


Payment & Security
Your payment information is processed securely. We do not store credit card details nor have access to your credit card information.