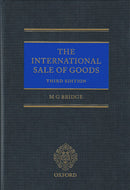 Description
by Michael Bridge

ISBN13: 9780199658251
New Edition ISBN: 9780198792703 Expected in 2018
Previous Edition ISBN: 9780199273584
Published: January 2013
Publisher: Oxford University Press
Country of Publication: UK
Format: Hardback

This new edition of the leading authority on international aspects of saw of goods provides clear, comprehensive and detailed analysis of the subject.

The unique dual coverage of contracts under English law and the CISG is a valuable benefit for those interested in all types of sale of goods contracts, including the sale of commodities such as grain and oil. The detailed commentary provides analysis on decided cases as well as on standard form contracts which represent evolving trade practice.

In addition to matters of contract law, the book considers relevant property law, most notably addressing those issues arising out of the use of documents of title, such as marine bills of lading. The rights and duties of buyer and seller are explained in depth, and the relationship of sale contracts to other contracts, such as charter parties and letter of credit contracts, is rigorously examined. The book deals with issues of frustration and force majeure, the passing of property and risk, and remedies.

New to this edition are three separate chapters on the UN Convention on the International Sale of Goods (CISG) covering formation, performance and remedies for non-performance of the contract. The law is explained in the context of commercial practice making the book an ideal reference source for practitioners, scholars and postgraduate students.
 
Contents:
PART I - INTERNATIONAL SALES GOVERNED BY ENGLISH LAW
1. Introduction to International Sales
2. The Performance Obligations of Seller and Buyer in English Law
3. FOB Contracts
4. CIF Contracts
5. Licences and Impossibility
6. Payments
7. Passing of Property and Risk
8. Bills of Lading and Documents of Title
9. Remedies: Termination and Damages

PART II - INTERNATIONAL SALES GOVERNED BY THE UN SALES CONVETION 1980 (CISG)
10. The CISG: General Issues
11. The CISG and English Law Compared
12. The Substantive Law of the CISG: Formation of the Contract
13. The Substantive Law of the CISG: Performance of the Contract
14. The Substantive Law of the CISG: Remedies for Non-Performance
15. Common European Sales Law Regulation
Contact Us
Contact Us
LegalBooks.ie
Legal & General Shop
The Law Society Building
The Four Courts
Dublin 7
01 8725522
info@legalbooks.ie
D07 N972

VAT number: IE4814267p


Payment & Security
Your payment information is processed securely. We do not store credit card details nor have access to your credit card information.