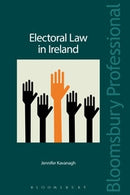 Description
By: Jennifer Kavanagh
Published: 14-12-2015
Format: Paperback
Edition: 1st
ISBN: 9781780438139

Electoral Law in Ireland guides the reader through the labyrinthine regulation of electoral law in Ireland from the creation and registration of parties, through to administrative issues with funding, lobbying, political advertising through to issues regarding ethical aspects of political life such as Standards and Ethics in Public Office.

Since the foundation of the State there have been 61 acts and 287 statutory instruments dealing with the regulation of political activities in Ireland. The legislation deals with everything from creating a party, to donations through to the regulation of elections and referendums. A comprehensive understanding of this complex legislation is vital to those working in politics and to those who wish to gain greater understanding of political regulation in Ireland.

This book also deals with the major challenges and issues such as lobbying regulation and political advertising concerns.

Table Of Contents

Chapter 1: Introduction to the Regulation of Political Life
Chapter 2: The Regulatory Foundations of Irish Electoral Law
Chapter 3: Political Party Administration
Chapter 4: Running a Campaign
Chapter 5: Nominating Procedures
Chapter 6: The Right to Vote and Voter Registration
Chapter 7: Special Voters, Postal Voting and Voting on the Islands
Chapter 8: Arrangements for the Poll
Chapter 9: The Poll
Chapter 10: Electoral Offences
Chapter 11: The Count
Chapter 12: Challenging the Result
Chapter 13: Reimbursement of Expenses
Chapter 14: Ethical Standards for Elected Office
Contact Us
Contact Us
LegalBooks.ie
Legal & General Shop
The Law Society Building
The Four Courts
Dublin 7
01 8725522
info@legalbooks.ie
D07 N972

VAT number: IE4814267p


Payment & Security
Your payment information is processed securely. We do not store credit card details nor have access to your credit card information.