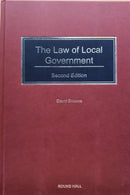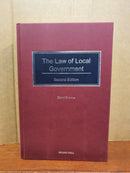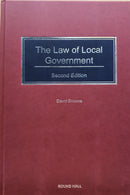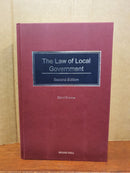 Description
Author: David Browne
Publisher: Round Hall
Pub Date: 10/12/2020
ISBN: 9780414073081
Jurisdiction: Ireland

Now entering its second edition, The Law of Local Government provides a comprehensive and definitive analysis of the law on local government, including the substantive and procedural provisions which are relevant for the application of law on local government and local authority legislative provisions.

Key features

- Provides a comprehensive analysis of local government law and the legislative provisions applying to local government law.
- Details the main statutory provisions and provides an exhaustive and extensive analysis of relevant case-law.
- Analyses particular points of law which require clarification and deserve academic analysis.
- Refers to the relevant District Court, Circuit Court and Superior Court Rules for applications and enforcement proceedings under the local government statutory code.
- Summarises the law relating to local government administration, functions and services.
- Deals with key provisions on the local government system, including the role of the Manager, elected members and officials and employees.
- Provides an overview of the legal capacity and potential liability of local authorities.
- Includes a specific chapter on public procurement and local authorities which will hopefully be of use to a wider audience in the absence of a specific text on public procurement.
- Dedicated chapters on the main functions and services provided by local authorities, including planning enforcement, waste and water services, housing, roads, building regulations, etc.
- Specific focus on the financing of local government, including rating, borrowing and auditing.
The new edition brings the book fully up to date with all relevant case law and legislative developments since its first edition published in 2014.
Contact Us
Contact Us
LegalBooks.ie
Legal & General Shop
The Law Society Building
The Four Courts
Dublin 7
01 8725522
info@legalbooks.ie
D07 N972

VAT number: IE4814267p


Payment & Security
Your payment information is processed securely. We do not store credit card details nor have access to your credit card information.