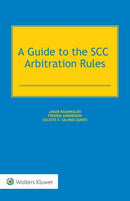 Description
By: Jakob Ragnwaldh, Fredrik Andersson, Celeste E. Salinas Quero
ISBN: 9789041140401
Published: 11 Dec 2019
A Guide to the SCC Arbitration Rules serves as a commentary to the 2017 Arbitration Rules of the Arbitration Institute of the Stockholm Chamber of Commerce (SCC). SCC is one of the world's leading arbitral institutions, registering about two hundred new cases each year, approximately half of them being international cases in commercial and investment treaty disputes. True to the SCC tradition of offering a cost-efficient and flexible procedure, the SCC's current Arbitration Rules, which came into force in 2017, introduced important new mechanisms enhancing the efficiency of the proceedings. This guide to the SCC Arbitration Rules, the first and only available commentary in English, addresses the Rules and their Appendices article by article in the order in which they appear in the Rules.
What's in this book:
The authors bring together their combined extensive experience of conducting SCC arbitrations as counsel, arbitrators and members of the SCC Board and Secretariat to provide thorough and user-friendly guidance on the SCC proceedings from start to finish, including the new features introduced in 2017 such as summary procedure, joinder and multiple-contract arbitrations, as well as the new Appendix addressing certain aspects specific to investment treaty arbitration. All the general issues such as appointment and removal of arbitrators, the proceedings before the arbitral tribunal, making of awards and decisions, are addressed, along with:
-       emergency arbitrator proceedings;
-       consolidation of cases;
-       the appointment of an administrative secretary;
-       particular characteristics of investment treaty disputes; and
-       costs of the arbitration.
-       How this will help you:
-       Focusing primarily on how the Arbitration Rules are applied in practice, this book should first  be read as a practitioner's guide. This book is sure to appeal to arbitrators, external counsel and party representatives who choose to adopt the SCC Arbitration Rules, whether they are based in Sweden or elsewhere. Practitioners will confidently approach any case under the SCC Arbitration Rules with full awareness of applicable rules of procedure and practice.
Table Of Contents:
Foreword
Preface
CHAPTER 1
Arbitration Institute of the Stockholm Chamber of Commerce
CHAPTER 2
General Rules
CHAPTER 3
Commencement of Proceedings
CHAPTER 4
Composition of the Arbitral Tribunal
CHAPTER 5
The Proceedings Before the Arbitral Tribunal
CHAPTER 6
Awards and Decisions
CHAPTER 7
Costs of the Arbitration
CHAPTER 8
Miscellaneous
CHAPTER 9
Appendix I: Organisation
CHAPTER 10
Appendix II: Emergency Arbitrator
CHAPTER 11
Appendix III: Investment Treaty Disputes
CHAPTER 12
Appendix IV: Schedule of Costs: Arbitration Costs
Annex: Arbitration Rules of the Arbitration Institute of the Stockholm Chamber of Commerce
Contact Us
Contact Us
LegalBooks.ie
Legal & General Shop
The Law Society Building
The Four Courts
Dublin 7
01 8725522
info@legalbooks.ie
D07 N972

VAT number: IE4814267p


Payment & Security
Your payment information is processed securely. We do not store credit card details nor have access to your credit card information.