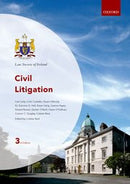 Description
Civil Litigation

Third Edition

Edited by Colette Reid

Law Society of Ireland Manuals

Provides detailed and up-to-date treatment of all the stages of the Irish civil litigation process, ensuring apprentice solicitors are fully prepared for practice
Practical and user-friendly focus on key practice areas and jargon-free treatment of the subject makes complex material easy to understand
Includes precedents and checklists designed to aid student learning
Part of the successful Law Society of Ireland Manuals series, which provides a unique guide to the law, practice and procedure in Ireland
New to this Edition:

Fully updated with new legislation and case law
An invaluable resource for trainee and newly qualified solicitors in Ireland, Civil Litigation provides a comprehensive understanding of the practice and procedure in the most commonly encountered aspects of civil litigation. The manual sets out the steps to be taken by a solicitor in civil proceedings in the District Court, the Circuit Court and the Superior Courts, from initiating or defending an action to obtaining an order and enforcing it, to preparing the bill of costs.

The text focuses on key practice areas, with chapters on the practice and procedure of each of the courts; damages; the limitation of actions; concurrent wrongdoers; appeals; civil evidence; discovery; injunctions; judicial review; personal injury litigation; summary procedure and enforcement of judgments; litigation costs and client care and file management.

Fully updated with new legislation and case law, this third edition is essential reading for all trainee solicitors on the Professional Practice Course, and will also be a useful reference for students, academics, and practitioners in the field.

Previous publication dates
April 2009, June 2004
 
1. Damages in Civil Actions
2. Limitation of Actions
3. The Parties to an Action and Concurrent Wrongdoers
4. Jurisdiction
5. The District Court
6. The Circuit Court
7. The High Court
8. The Master's Court
9. Appeals
10. Personal Injury Litigation
11. Civil Evidence
12. Discovery
13. Injunctions
14. Judicial Review
15. The Motor Insurers' Bureau of Ireland
16. Fatal Injury Actions
17. Summary Procedure and Enforcement of Judgments
18. Litigation Costs
19. Client Care and File Managagement
 
Author Information

Colette Reid, Solicitor and Course Manager, Law Society of Ireland

Colette Reid is a Solicitor and a Course Manager with the Law Society of Ireland. She
is responsible for the design and co-ordination of the Civil Litigation and Civil Advocacy
courses, amongst others, on the Law Society's Professional Practice Courses. She is also the
Skills Leader responsible for the development and co-ordination of Skills training on the
Professional Practice Course Part 1. She lectures in civil litigation, land law, medical law and
skills on the Law Society's Professional Practice Courses. Prior to joining the Law Society's
Education Department, Colette was in private practice for 10 years.
Contact Us
Contact Us
LegalBooks.ie
Legal & General Shop
The Law Society Building
The Four Courts
Dublin 7
01 8725522
info@legalbooks.ie
D07 N972

VAT number: IE4814267p


Payment & Security
Your payment information is processed securely. We do not store credit card details nor have access to your credit card information.