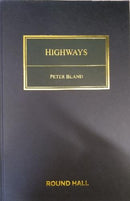 Description
Author: Peter Bland SC
Publisher: Round Hall
Publication Date: 03/12/2020
ISBN: 9780414081338
Jurisdiction: Ireland
Highways by Peter Bland represents the first dedicated commentary on the Irish law in this area. It provides a comprehensive and practical analysis of the law of public roads, public rights of way and the liability of the road authority.
Cases involving the public road comprise a significant proportion of civil litigation. The Irish law relating to the liability of the road authority for dangers arising on the public road requires clarification and has, to date, suffered from a lack of analysis.
This work provides a complete and up-to-date review of the law of public roads, including creation, maintenance, management, EIA, AA, compulsory purchase and compensation, trading and bridges.
This brand new title:
* Delivers a comprehensive and practical commentary on the law relating to the creation, maintenance and ownership of public roads, including the powers and duties of road authorities, and the rights and responsibilities of users of the public road and of those who own adjoining land.
* Addresses the liability of the Roads Authority, including a detailed analysis of the nonfeasance rule.
* Explores the liability issues relating to design, road surface, road installations, traffic signs, lighting, trees and transient dangers.
* Reviews key issues and trends in the law of nuisance and negligence relevant to public roads and road authority liability.
* Considers the planning and environmental regulation of public roads, and addresses EIA and AA jurisprudence.
* Includes review of the law of compulsory purchase and compensation relating to road projects.
* Provides comprehensive treatment of the law of public rights of way.
* Includes a chapter on protest rights and Convention jurisprudence.
* Features a consolidated version of the Roads Act 1993.
Peter Bland is a Senior Counsel and is also the author of Easements, Third Edition (Round Hall, 2015).
Contact Us
Contact Us
LegalBooks.ie
Legal & General Shop
The Law Society Building
The Four Courts
Dublin 7
01 8725522
info@legalbooks.ie
D07 N972

VAT number: IE4814267p


Payment & Security
Your payment information is processed securely. We do not store credit card details nor have access to your credit card information.