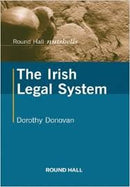 Description
Author : Dorothy Donovan
Publisher: Round Hall
Publication Date: 31/10/2010
ISBN: 9781858005942
Jurisdiction: Ireland

This is brand new title in our very popular Nushell Series.

Contents: Sources of Irish Law, the Common Law and Equity, Divisions of Irish Law, the Judiciary and other Personnel of the Law, the Courts, the Constitution, Legislation, Precedent, EU Law, International Law, Remedies and Enforcement, and Alternative Dispute Resolution.

Dorothy Donovan, LL.B., LL.M., Barrister at Law, is a practising barrister, a lecturer in law at the Wexford Campus of the Institute of Technology Carlow and is a Vice-Chairman of the Employment Appeals Tribunal.
Contact Us
Contact Us
LegalBooks.ie
Legal & General Shop
The Law Society Building
The Four Courts
Dublin 7
01 8725522
info@legalbooks.ie
D07 N972

VAT number: IE4814267p


Payment & Security
Your payment information is processed securely. We do not store credit card details nor have access to your credit card information.