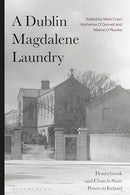 Description
By: Mark Coen (Anthology Editor), Katherine O'Donnell (Anthology Editor), Maeve O'Rourke (Anthology Editor)
Published: 23/02/23
Edition: 1st
ISBN    9781350279049
Publisher: Bloomsbury Publishing
Towards the end of the 20th century, the decades of abuse and neglect perpetrated in Ireland's comprehensive carceral network began finally to be exposed. The mistreatment endured by children and others on the margins of Irish society, notably women, in these orphanages, reformatory schools, industrial schools, psychiatric hospitals, County Homes, Mother and Baby Homes, adoption agencies and Magdalene Laundries now attracts increasing investigation and scholarship. Bringing together contributions from leading experts across a broad range of disciplines, including history, philosophy, law, archaeology, criminology, accounting and architecture, this book offers a comprehensive exploration of the Magdalene system through a close study of Donnybrook Magdalene Laundry in Dublin.
To date, the Justice for Magdalenes Research group has recorded the names of 315 women and girls who died at Donnybrook Magdalene Laundry.
By focusing on this one institution-on its ethos, development, operation and built environment, and the lives of the girls and women held there-this book reveals the underlying framework of Ireland's wider system of institutionalisation. The analysis includes a focus on the privatisation and commodification of public welfare, reproductive injustice, institutionalised misogyny, class prejudice, the visibility of supposedly 'hidden' institutions and the role of oral testimony in reconstructing history. In undertaking such a close study, the authors uncover truths missing from the state's own investigations; shed new light on how these brutal institutions came to have such a powerful presence in Irish society, and highlight the significance of their continuing impact on modern Ireland.
Table of Contents

Introduction – Mark Coen, Katherine O'Donnell, Maeve O'Rourke
Political, Cultural and Social Contexts of Donnybrook Magdalene Laundry
1. The Religious Sisters of Charity: Origins, Development and Controversies, Mark Coen Donnybrook
2. Magdalene Asylum and the Priorities of a Nation: A History of Respectability, Lindsey Earner-Byrne
3. 'Cheap in the End': A History of Donnybrook Magdalene Laundry, Mark Coen
4. 'Magdalene' Testimony from the Donnybrook Laundry, Katherine O'Donnell
Social, Commercial and Legal Significance of Donnybrook Magdalene Laundry
5. Designing Donnybrook: Conceiving Ireland's 'Architecture of Containment', Chris Hamill
6. 'Benefactors and Friends': Charitable Bequests, Reparation and the Donnybrook Laundry, Máiréad Enright
7. Accounting at the Donnybrook Magdalene Laundry, Brid Murphy and Martin Quinn
8. 'Women of Evil Life': Donnybrook Magdalene and the Criminal Justice System, Lynsey Black
Heritage and Memory
9. Contemporary Archaeology and Donnybrook Magdalene Laundry: Working with the Material Remnants of an Institutionalised Recent Past, Laura McAtackney
10. The Material Evidence of Donnybrook Magdalene Laundry
(i) Museum Display and Interpretation as an act of Social Justice, Brenda Malone
(ii) Archival Legacies, Barry Houlihan
11. Guerrilla Archive: Donnybrook and the Magdalene Names Project, Claire McGettrick
Contact Us
Contact Us
LegalBooks.ie
Legal & General Shop
The Law Society Building
The Four Courts
Dublin 7
01 8725522
info@legalbooks.ie
D07 N972

VAT number: IE4814267p


Payment & Security
Your payment information is processed securely. We do not store credit card details nor have access to your credit card information.