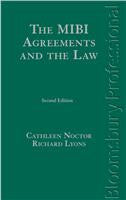 Description
By: Cathleen Noctor, Richard Lyons
Published: 31-12-2012
Format: Hardback
About The MIBI Agreements and the Law
This second edition of The MIBI Agreements and the Law provides a comprehensive guide to the law which has built up around the Motor Insurance Bureau of Ireland Agreements (focusing on both statutory and common law liability, together with European law). Written by lawyers, it deals with new regulations and is totally up to date. The appendices have also been completely updated in this new edition.

Contents includes:
Introduction;
The Obligation to Insure: Liability of the MIBI;
Exclusion of Claims;
Claiming Compensation from the MIBI: Conditions Precedent and Decisions on Claims;
Suing the MIBI: Conditions Precedent and the PIAB;
Property Damage;
Unidentified or Untraced Owner or User;
The 1% Rule;
Mandates and Recovery Rights of the MIBI;
Parties to Actions affecting the MIBI and Satisfaction of Judgments;
Costs where Claimant must bring Two Actions;
The MIBI: An Emanation of the State;
Visiting Motorists in Ireland and Irish Motorists Abroad.
Contact Us
Contact Us
LegalBooks.ie
Legal & General Shop
The Law Society Building
The Four Courts
Dublin 7
01 8725522
info@legalbooks.ie
D07 N972

VAT number: IE4814267p


Payment & Security
Your payment information is processed securely. We do not store credit card details nor have access to your credit card information.