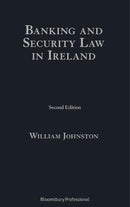 Description
Published: 30-04-2020
Format: Hardback
Edition: 2nd
ISBN: 9781847666680
Imprint: Bloomsbury Professional

The long-awaited new edition of Banking and Security Law in Ireland provides a comprehensive update on the law in practice and the pitfalls involved in taking security over land, machinery, agricultural assets, shares, debts, deposits and their registration. Updated case law and legislation (including the new Companies Act) governing the relationship of banker and customer, bank confidentiality, facility letters, payment demands, appointment of receivers and the avoidance of guarantees and security including undue influence case law are also covered in detail.

The new edition also provides an extensive and in-depth guide on the current labyrinthine regulatory regime relating to consumer credit and consumer protection generally, including the Consumer Credit Act, the EU Consumer Credit Regulations, the EU Mortgage Credit Regulations and the Consumer Protection Code. Other conduct of business requirements relating to banking business are also covered in detail, including the Code of Conduct on Mortgage Arrears, the Lending to SME Regulations, the Consumer Protection Act, the EU Distance Marketing of Consumer Financial Services Regulations, the Code on Related Parties Lending and the Credit Reporting Act. The redress/recourse mechanisms available to consumers are also covered, including the Financial Services Ombudsman, the Credit Review Office, and the thorny issue of the implications in litigation against consumers of lenders' non-compliance with regulatory codes.

This book's practical style is designed to assist bankers, practising lawyers and compliance professionals in the application of the ever-increasing and complex law of banking, security and consumer protection. Much of the content is unique and cannot be found in any other publication.
An essential addition to the library of every practitioner and compliance professional in the banking area.

TABLE OF CONTENTS

Part I - Banker-Customer Relationship
Ch 1: Capacity of Customer;
Ch 2: Bank Accounts - Appropriation and Set-off;
Ch 3: Bank Confidentiality;
Ch 4: Facility Agreements;
Ch 5: Guarantees;
Ch 6: Avoidance of Commitments;
Ch 7: Credit Reporting Act 2013;
Ch 8: Financial Services Ombudsman.
Part II - Regulation
Ch 9: Consumer Credit Act 1995 (cash loans);
Ch 10: EC (Consumer Credit Agreements) Regulations 2010;
Ch 11: Regulation of Mortgage Lending (EU (Consumer Mortgage Credit Agreements) Regulations 2016, Consumer Credit Act 1995 (housing loans) and Code of Practice on the Transfer of Mortgages);
Ch 12: Code of Conduct on Mortgage Arrears;
Ch 13: Other Aspects of Consumer Protection Regulation (EC (Unfair Terms in Consumer Contracts) Regulations, 1995, Consumer Protection Act 2007 and EC (Distance Marketing of Consumer 
Contact Us
Contact Us
LegalBooks.ie
Legal & General Shop
The Law Society Building
The Four Courts
Dublin 7
01 8725522
info@legalbooks.ie
D07 N972

VAT number: IE4814267p


Payment & Security
Your payment information is processed securely. We do not store credit card details nor have access to your credit card information.