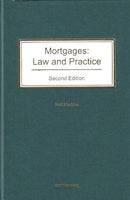 Description
Author : Neil Maddox
Publisher: Round Hall
Publication Date: 11/10/2017
ISBN: 9780414061736

Mortgages Law and Practice is the only modern work to deal exclusively with drafting, registration and enforcement of mortgages. As such, the book will be of use to both solicitors and barristers who seek guidance on the intricacies of the law on mortgages. It also clarifies the various procedures to be followed when pursuing a mortgage suit.

The new edition relevant to banking, family, company and financial services law specialists provides an up-to-date reference guide for the law and practice of mortgage suits in Ireland, including all relevant case law and statutory and regulatory changes. It deals with the major legislative changes introduced by the Land and Conveyancing Law Reform Act 2009 (LCLRA 2009) together with recent and up-to-date case law relating to that Act, and analyses of new regulatory law relating to mortgages and insolvency.
Contact Us
Contact Us
LegalBooks.ie
Legal & General Shop
The Law Society Building
The Four Courts
Dublin 7
01 8725522
info@legalbooks.ie
D07 N972

VAT number: IE4814267p


Payment & Security
Your payment information is processed securely. We do not store credit card details nor have access to your credit card information.