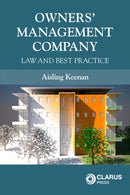 Description
Author: Aisling Keenan
ISBN: 9781911611288
Format: Paperback
Publishing: 17 September 2019
Owners' Management Company: Law and Best Practice is an authoritative guide to the Law of Property Management in Ireland. It examines in detail, the workings of the Owners' Management Company and its implications for all of those who are involved including its members, directors, service providers and residents. 
The book deals with all of the legal and practical issues around the ownership and control of the common areas of a Multi-Unit Development which may comprise apartment blocks, housing estates, commercial estates and/or mixed-use developments. The Property Services Regulatory Authority is examined as is some fundamental and relevant provisions of the new Companies Act 2014 which apply all Owners' Management Companies in Ireland today. The myriad of issues which abound landlord and tenant law in the residential context are also covered in the book. As the subject of the Owners' Management Company Traverses Land Law, Housing Law and Company Law, this book will be of great interest to students and anyone wishing to learn more about practicing in the property services sector.
Contents:
1. Introduction
2. The Development of the OMC
3. The Role of the Property Developer
4. Owners Duties and Responsibilities
5. Service Charge and Sinking Fund calculation and recovery
6. The Multi-Unit Developments Act 2011
7. The Property Services Regulatory Authority
8. Regulation of the OMC
9. Company Law – The implications for OMC's
10. Appointment of Receivers
11. Strike off and Restoration
12. Insurance and the OMC
13. Landlord and Tenant law in the Residential Context
Appendices
Appendix 1: Samples Owners Management CLG
Appendix 2: Sample Annual Service Charge Budgets
Appendix 3: MUD Act pre-contract enquiries
About the Author:
Aisling Keenan is a graduate of the School of Business, Public Policy and Law at NUI Galway and the Founder and Managing Director of AK Property Services. A qualified Managing Agent, Aisling has twenty years of professional industry experience, a bachelor of commerce and LLB Bachelor of Laws from NUI Galway.
Who Should Buy This Book?
Owners' Management Company: Law and Best Practice is an essential reference for all owners of properties located within multi-unit developments; residents of properties located within multi-unit developments; Law makers involved in property matters; public officials involved in housing; professionals working in this area including solicitors, barristers, accountants, housing managers, estate agents, architects and engineers; service contractors, property developers and students.
Contact Us
Contact Us
LegalBooks.ie
Legal & General Shop
The Law Society Building
The Four Courts
Dublin 7
01 8725522
info@legalbooks.ie
D07 N972

VAT number: IE4814267p


Payment & Security
Your payment information is processed securely. We do not store credit card details nor have access to your credit card information.