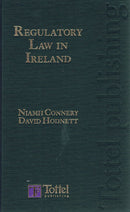 Description
Authors: Niamh Connery and David Hodnett
ISBN: 9781847662545
Published: February 2009
Format: Hardback

The book sets out the features of economic regulation in Ireland in the following sectors: aviation, banking, broadcasting, communications including post, competition and energy.
Separate chapters set out the legislative approach to economic regulation in each area and discuss the role of the main regulators:

-The Commission for Aviation Regulation
-the Central Bank and Financial Services Regulatory Authority
-the Broadcasting Commission of Ireland
-the RTE Authority
-the Broadcasting Complaints Commission
-the new Broadcasting Authority of Ireland
-the Commission for Communications Regulation
-the Competition Authority
-and the Commission for Energy Regulation.

Also included is an introduction to aspects of the economics of regulation and the legal context. There is a separate chapter on Judicial Review and Appeal Panels. In addition, a chapter dealing with some procedural issues in the enforcement of regulatory frameworks is included.
This book is timely due to the emergence of a system of independent sectoral regulation in Ireland in the past decade following a policy shift towards liberalising markets. This is partly due to the impact of deeper European Common market integration and partly due to the desire of central government to promote more competition in the Irish economy.
The regulation of the banking sector chapter is in particular timely given the recent turmoil in this particular sector. The regulation of broadcasting is also timely given the pending adoption of the Broadcasting Bill 2008 by year end which will fundamentally change the way the broadcasting sector is regulated. The Communications Act and the Competition Act were updated in 2007 and so it is timely to reflect on those changes and the impact they have had on the markets involved.
Contact Us
Contact Us
LegalBooks.ie
Legal & General Shop
The Law Society Building
The Four Courts
Dublin 7
01 8725522
info@legalbooks.ie
D07 N972

VAT number: IE4814267p


Payment & Security
Your payment information is processed securely. We do not store credit card details nor have access to your credit card information.