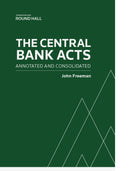 Description
OUT OF PRINT 
The Central Bank Acts
Author : John Freeman
Publisher: Round Hall
Publication Date: 12/12/2019
ISBN: 9780414073135

The legislative framework for regulated financial services in Ireland is notably complex and, as yet, unconsolidated. The Central Bank Acts 1942 - 2018 and the Financial Services and Pensions Ombudsman Act 2017 provide the basic architecture for the financial system. They set the regulatory perimeter in some significant areas, significantly shape the rights of customers, and define the functions and powers of the key players: the Central Bank of Ireland, the Appeals Tribunal, and Financial Services and Pensions Ombudsman.

This new text sets out the consolidated text of each Central Bank Act on the statute book (and the Financial Services and Pensions Ombudsman Act 2017) in chronological order. Each Act features an introduction, and the annotations beneath each section expand on the meaning of each section and provide notes on relevant case law.

FEATURES
* Up-to-date consolidated legislation showing commencements, repeals, substitutions and amendments.
* Annotations on each section, with detailed notes on relevant case law.
* Detailed commentary on the Financial Services and Pensions Ombudsman and on the interaction between the FSPO and the courts.
* In-depth consideration of the legal status of codes of conduct, such as the Code of Conduct on Mortgage Arrears and the Consumer Protection Code.
* Close analysis of the statutory cause of action for damages for a contravention of financial services legislation.
* Key provisions which have not been considered by the courts in Ireland are compared with provisions of UK financial services law.
* An introduction on each Act.
* Clear division of primary and secondary legislation.


ABOUT THE AUTHOR
John Freeman is a practising barrister who has worked in-house in regulated financial services and in prudential supervision in the Central Bank of Ireland. In his practice, John has appeared in financial regulatory and professional disciplinary cases in the courts and before administrative bodies and advises widely on regulatory and banking law issues.

ABOUT THE CONSULTANT EDITOR
John McCarroll is a Senior counsel with an extensive background in financial services and commercial law. He has acted in numerous FSO appeals mainly for banks and financial institutions. He has also been in practice in England and Wales and currently is counsel with Harney Westwood & Riegels in the British Virgin Islands.
Contact Us
Contact Us
LegalBooks.ie
Legal & General Shop
The Law Society Building
The Four Courts
Dublin 7
01 8725522
info@legalbooks.ie
D07 N972

VAT number: IE4814267p


Payment & Security
Your payment information is processed securely. We do not store credit card details nor have access to your credit card information.