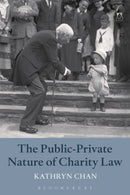 Description
Kathryn Chan
ISBN13: 9781782258483
Published: September 2016
Publisher: Hart Publishing
Country of Publication: UK
Format: Hardback
Is charity law a "private law" or a "public law" subject? This book maps charity law's relationship to the public law-private law divide, arguing that charity law is best understood as a hybrid (public-private) legal tradition that is constantly seeking to maintain an equilibrium between the protection of the autonomy of property-owning individuals to direct and control their wealth, and the furtherance of competing public visions of the good.
Of interest to scholars and charity lawyers alike, The Public-Private Nature of Charity Law applies its unique lens both to traditional topics such as the public benefit rule and charity law's rules of standing, and to more contemporary issues such as the co-optation of charitable resources by threatened welfare states and the emergence of social enterprise.
Contents:
1. The Law of Charities and the Public Law-Private Law Divide
2. Charity Regulators and the Institutional Public Law-Private Law Divide
3. Public Benefit and the Substantive Public Law-Private Law Divide
4. Charity Law Standing Rules and the Procedural Public Law-Private Law Divide
5. Alternative Equilibriums: Tax-based Charity Regulation and the Public Law-Private Law Divide
6. Challenges to the Hybrid Equilibrium: The Co-optation of Charitable Resources by Threatened Welfare States
7. New Equilibriums: Social Enterprise as a Post-charitable Legal Form
8. Conclusion
Contact Us
Contact Us
LegalBooks.ie
Legal & General Shop
The Law Society Building
The Four Courts
Dublin 7
01 8725522
info@legalbooks.ie
D07 N972

VAT number: IE4814267p


Payment & Security
Your payment information is processed securely. We do not store credit card details nor have access to your credit card information.