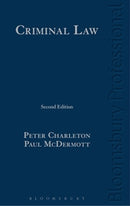 Description
Authors: Peter Charleton, Paul A McDermott
Published: 29-10-2020
Format: Hardback
Edition: 2nd
ISBN: 9781845922313
From the various elements of liability and participation, to specific offences such as homicide and sexual offences, this key book has been fully updated to the most recent legislative and case law developments.
It includes, amongst many important features, a detailed treatment of the defences that may be raised, and will prove invaluable to barristers, solicitors and legal students alike.
Table Of Contents
Chapter 1: Constructing Criminal Liability
Chapter 2: Fundamental Principles of Evidence
Chapter 3: Hearsay and Confessions
Chapter 4: Legal Action and Illegal Exclusion
Chapter 5: Disclosure and Privilege
Chapter 6: Witness Examination
Chapter 7: Complicity in Offences
Chapter 8: Inchoate Offences
Chapter 9: Possession
Chapter 10: Homicide
Chapter 11: Sexual Violence
Chapter 12: Non-Fatal Offences
Chapter 13: Offences against Property
Chapter 14: Corporate Crime
Chapter 15: Introduction to the Defences
Chapter 16: Lawful Use of Force
Chapter 17: Provocation
Chapter 18: Entrapment
Chapter 19: Estoppel
Chapter 20: Insanity, Diminished Responsibility and Automatism
Chapter 21: Duress
Chapter 22: Necessity
Chapter 23: Mistake
Chapter 24: Infancy
Chapter 25: Intoxication
Chapter 26: Unconstitutionality
Contact Us
Contact Us
LegalBooks.ie
Legal & General Shop
The Law Society Building
The Four Courts
Dublin 7
01 8725522
info@legalbooks.ie
D07 N972

VAT number: IE4814267p


Payment & Security
Your payment information is processed securely. We do not store credit card details nor have access to your credit card information.