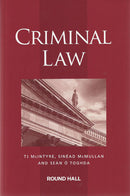 Description
Author : TJ McIntyre
Author : Sinead McMullan
Author : Sean O Toghda
Publisher: Round Hall
Publication Date: 17/09/2012
ISBN: 9781858005850
Jurisdiction: Ireland

Comprehensive Textbook on Criminal Law

Building on the two previous editions of their well-established Criminal Law Essential Law Text the authors have expanded that text significantly to produce a much-needed, definitive treatment and analysis of this area of the law. As such the title is now in the University Textbook Series.

This new title is a comprehensive textbook on Irish criminal law which brings the reader up-to-date with significant recent developments. It contains extensive analysis and commentary that will prove invaluable to both the legal practitioner and the student of law. It also provides comparative analysis where appropriate.

Key Features
Explains the principles of criminal law and how the law operates in practice
Focuses on topics common to the majority of law courses
Includes examples throughout to illustrate the point of law
Discusses recent Law Reform Commission reports and statutory changes.
Draws on comparative law
Considers the impact of the European Convention on Human Rights on domestic criminal law
Provides detailed analysis of recent developments in areas such as crimes against children, insanity, and defence of the dwelling and cybercrime
Includes coverage of new defences such as diminished responsibility and honest belief in child sexual offences

Right up to date - Includes coverage of

* Criminal Law (Insanity) Act, 2006
* Criminal Law (Sexual Offences) Act 2006
* Criminal Law (Defence and the Dwelling) Act 2011
* Criminal Justice (Public Order) Act 2012

Who will find this title useful?
This book will be useful to students and practitioners alike. Students will need no other criminal text. Practitioners will find it up to date and useful.

CONTENTS
* Introduction to Fundamental Principles and Concepts
* Mental Elements of Crime
* Action Elements of Crimes
* Homicide
* Sexual Offences
* Offences against the Person
* Offences against Property
* Offences against the Administration of Justice
* Public Order Offences
* Defences Specific to Murder
* General Defences
* Inchoate Offences
* Degrees of Complicity in Crime
* Criminal Liability of Corporations

About the Authors

TJ McIntyre is Lecturer in Law, University College Dublin and a practising solicitor.

Sinead McMullan is a practising barrister specialising in criminal law and a former lecturer in Dublin Institute of Technology and Trinity College Dublin.

Sean O Toghda is a practising barrister.
Contact Us
Contact Us
LegalBooks.ie
Legal & General Shop
The Law Society Building
The Four Courts
Dublin 7
01 8725522
info@legalbooks.ie
D07 N972

VAT number: IE4814267p


Payment & Security
Your payment information is processed securely. We do not store credit card details nor have access to your credit card information.