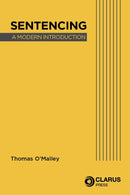 Description
Price to be confirmed
Author: Professor Thomas O'Malley 
ISBN: 9781911611752 
Format: Paperback
Extent: Approx 400 pages
Publishing: Spring/Summer 2022
Sentencing is a topic of enduring public interest and, not infrequently, one of considerable controversy. Yet it is also a topic that has traditionally received scant attention in academic and professional legal education, although that is slowly changing. Criminal law practitioners, present and future, need to be well versed on sentencing law and practice, especially now that the Supreme Court and Court of Appeal have begun to issue guideline judgments on the sentencing of particular offences, while the Sentencing Guidelines and Information Committee established under the Judicial Council Act 2019 is charged with developing formal guidelines.
Sentencing: A Modern Introduction by Professor Tom O'Malley, SC is the first Irish textbook on sentencing, and it aims to fill a serious gap in legal education by providing a detailed and reflective account of key sentencing issues. These include the rationale for criminal punishment, distributive principles, the role of victims, sentencing children, techniques for structuring judicial discretion (including guidelines), sentencing options, collateral consequences of conviction and parole. A central theme of the book is that sentencing must be viewed as a process rather than an event. Hence, the judicial selection of a sentence is undoubtedly a key moment in the overall sentencing process, however, that decision in turn will have been influenced by decisions taken by various actors earlier in the process, while the impact of the penalty is often determined by later executive decisions.
While essentially concerned with sentencing law, this book incorporates insights from many other disciplines including philosophy, sociology, history and economics. It has a strong comparative focus, drawing on the experiences of other jurisdictions with sentencing systems broadly similar to Ireland's in order to illustrate both the commonality and diversity of approaches to recurring issues in the sentencing of offenders.
Chapters Include:
Sentencing in Context
Process and Values
Why Punish?
Constitutional Constraints on Sentencing Powers
Distributive Principles of Sentencing
Pleading Guilty
Collateral Consequences of Conviction
Remedial Sentencing
Youth and Disability
Sentencing Particular Offences
The Role of the Victim
Sentencing Options
Guidance and Guidelines
Sentence Implementation
Who Should Buy This Book?
Written by the author of the leading practitioner-oriented treatise on Irish sentencing, this book is intended for undergraduate and postgraduate students in law and criminology, and students on professional practice courses. Practitioners will also find the in-depth discussion of key principles and policies particularly useful.
About the Author
Tom O'Malley is a Senior Counsel and a member of the inner bar, and Associate Professor of Law at NUI Galway. His previous publications include Sentencing Law and Practice (3rd edn, 2016), Sexual Offences (2nd edn, 2013), Sentencing: Towards A Coherent Approach (2011), The Criminal Process (2009).
Contact Us
Contact Us
LegalBooks.ie
Legal & General Shop
The Law Society Building
The Four Courts
Dublin 7
01 8725522
info@legalbooks.ie
D07 N972

VAT number: IE4814267p


Payment & Security
Your payment information is processed securely. We do not store credit card details nor have access to your credit card information.