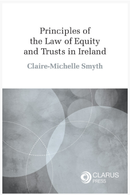 Description
Author: Claire-Michelle Smyth
ISBN: 978-1-911611-25-7
Publishing: 2 September 2019

About
Principles of the Law of Equity and Trusts in Ireland is an accessible student focused text providing a comprehensive discussion of the law relating to equitable remedies and trusts. Written in a clear and concise manner, each chapter provides the reader with the key principles, referring to decided case law and engages with academic debates.


Divided into two main parts, part one 'Equity' outlines the history and development of equity as a body of law before delving into the application of the equitable remedies. Part two, 'The Trust', examines the history and origin of the trust as an equitable remedy and charts its expansion. It examines the creation and validity of different types of trusts and their administration.

In Principles of the Law of Equity and Trusts in Ireland the author draws on her experience in teaching this topic in both Ireland and England at undergraduate and post graduate levels to bring together a text which is intelligible and user friendly.

Content Includes
Part I – Equity

Chapter 1: History and Development of Equitable Jurisdiction
Chapter 2: The Maxims of Equity
Chapter 3: Injunctions
Chapter 4: Specific Performance
Chapter 5: Rescission
Chapter 6: Rectification
Chapter 7: Estoppel
Chapter 8: Tracing
Part II – The Trust

Chapter 9: History and Development of the Trust
Chapter 10: Formalities and the Creation of the Express Trust
Chapter 11: Secret Trusts
Chapter 12: Donatio Mortis Causa
Chapter 13: Resulting Trusts
Chapter 14: Constructive Trusts
Chapter 15: Trusts in Family Property
Chapter 16: Purpose Trusts
Chapter 17: Charitable Trusts
Chapter 18: Void and Voidable Trust
Chapter 19: The Administration of Trusts
About the Author
Dr Claire-Michelle Smyth is a Senior Lecturer in Law, Postgraduate and Professional Programme Leader, CPE/Post Graduate Diploma in Law/LL.M Course Leader in the University of Brighton and author of Social and Economic Rights in Ireland (Clarus Press 2017).
Contact Us
Contact Us
LegalBooks.ie
Legal & General Shop
The Law Society Building
The Four Courts
Dublin 7
01 8725522
info@legalbooks.ie
D07 N972

VAT number: IE4814267p


Payment & Security
Your payment information is processed securely. We do not store credit card details nor have access to your credit card information.