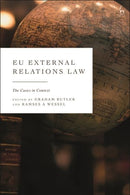 Description
Edited by: Graham Butler, Ramses A. Wessel
ISBN: 9781509939695
Published: June 2022
Publisher: Hart Publishing
Country of Publication: UK
Format: Hardback
Marking the 50th anniversary of the influential ERTA doctrine, this book analyses and contextualises the entire breadth of the jurisprudence of EU external relations law through a systematic, case-by-case account of the field.
The entire framework of EU external relations law has been built from the ground up by the jurisprudence of the Court of Justice of the European Union. At the beginning of the field's emergence, the legal questions to be answered concerned the division of powers and competence between, firstly, the Member States and that of the Union; and secondly, the division of powers and competence between the different institutions of the Union. Questions on such matters continue to be asked, but more contemporarily, new legal questions have arisen that have been in need of adjudication, including questions concerning the autonomy of Union law; the relationship between the Union and other international organisations; the relationship between Union law and international law; the scope and breadth of international agreements; amongst others.
The book features established academic scholars, judges, agents of institutions and Member States, and legal practitioners in the field of EU external relations law, analysing over 90 cases in which the Court has legally shaped the theory and practice of the external dimension of legal Europe.
Contact Us
Contact Us
LegalBooks.ie
Legal & General Shop
The Law Society Building
The Four Courts
Dublin 7
01 8725522
info@legalbooks.ie
D07 N972

VAT number: IE4814267p


Payment & Security
Your payment information is processed securely. We do not store credit card details nor have access to your credit card information.