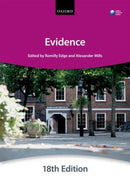 Description
Edited by: Romilly Edge, Alexander Mills, The City Law School

ISBN13: 9780198823155
Previous Edition ISBN: 9780198765998
Published: Jan. 2020
Publisher: Oxford University Press
Country of Publication: UK
Format: Paperback, A4

Drawing on the authors' extensive experience at the Bar, Evidence provides an excellent introduction to the essential principles of the law of evidence in both civil and criminal litigation.

The manual clearly explains the key rules of evidence, while its practical approach ensures that trainee barristers are prepared to conduct litigation in pupillage and beyond.

This manual has been fully revised to cover all recent developments in both civil and criminal evidence, ensuring that the most up-to-date procedure rules and guidelines are included.
Contents:
1: Fundamentals of evidence
2: Burden and standard of proof
3: Presumptions
4: Witnesses
5: Corroboration and suspect witnesses
6: Examination-in-chief
7: Cross-examination and re-examination
8: Character evidence: civil proceedings
9: Character evidence: the defendant in criminal proceedings
10: Character evidence: persons other than the defendant in criminal proceedings
11: The rule against hearsay: defining hearsay
12: Hearsay evidence in civil proceedings
13: Hearsay evidence in criminal proceedings
14: Confessions and illegally or improperly obtained evidence
15: Lies and silence
16: Identification evidence
17: Opinion evidence
18: Judgments as evidence of the facts on which they are based
19: Privilege and public policy
Contact Us
Contact Us
LegalBooks.ie
Legal & General Shop
The Law Society Building
The Four Courts
Dublin 7
01 8725522
info@legalbooks.ie
D07 N972

VAT number: IE4814267p


Payment & Security
Your payment information is processed securely. We do not store credit card details nor have access to your credit card information.