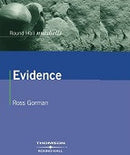 Description
Author : Ross Gorman
Publisher: Round Hall
Publication Date: 01/03/2006
ISBN: 9781858004211
Jurisdiction: Ireland

Thomson Round Hall's Nutshell on evidence law is a revision tool for students, summarising the essential components of the vast subject of evidence law. it is a user-friendly, accurate and concise work that will be an invaluable study aid, outlining the main principles and major cases in the following areas:

Contents The burden of proof; The testimony of witnesses; Corroboration; Identification evidence; Leading evidence of an accused's previous convictions (similar fact evidence); Cross-examing the accused on his previous convictions or his bad character; The rule against hearsay; Confession evidence; Evidence obtained in breach of an accused's constitutional rights and illegally obtained; Evidence; Expert and opinion evidence; Privilege.

Ross Gorman is a practising barrister. He is also a tutor in Griffith College Dublin and in The Honorable Society of Kings Inns.
Contact Us
Contact Us
LegalBooks.ie
Legal & General Shop
The Law Society Building
The Four Courts
Dublin 7
01 8725522
info@legalbooks.ie
D07 N972

VAT number: IE4814267p


Payment & Security
Your payment information is processed securely. We do not store credit card details nor have access to your credit card information.