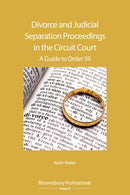 Description
Published: 11-07-2019
Edition: 1st
ISBN: 9781526507105

About Divorce and Judicial Separation Proceedings in the Circuit Court:

Following 12 years of piecemeal amendments, 2017 and 2018 saw the Circuit Court make significant changes to family law Rules. Most notable among the changes was the Circuit Court Rules (Family Law) 2017 and also the consolidation of Order 59. With the vast majority of divorce and separation proceedings being dealt with at the Circuit Court level, it is vital for those working in the area of family law to come to grips with these developments. Divorce and Judicial Separation Proceedings in the Circuit Court aims to provide a practitioner-focussed reference guide to the new changes and rules. It is fully up to date, and includes the new Family Law Circuit Court Rules introduced in October 2018.

This new title features:
- The full text of Order 59 laid out together with annotations and cross-references.
- Detailed explanation of the rationale behind the new rules.
- A section on precedent proceedings, including those that are part of Order 59 as well as new precedents not available elsewhere, including:
- New declarations for mediation
- New Civil Bill
- New case progression summons
- New certificate of completion of pre-case progression steps
- New certificate of readiness for trial

This user-friendly guide is ideally suited for solicitors and barristers in general practice and those specialising in family law, as well as being an invaluable resource for academic institutions and libraries.

Table Of Contents
Order 59 Circuit Court Rules (Family Law) 2018
I. Preliminary and General
II. Proceedings under:
Guardianship of Infants Act 1964
Family Law (Maintenance of Spouses and Children) Act 1976
Family Home Protection Act 1976
Status of Children Act 1987
Judicial Separation and Family Law Reform Act 1989
Family Law Act 1995
Family Law (Divorce) Act 1996
Children Act 1997
III. Case Progression
IV. Appointment of guardians
V. Declaration of Parentage
VI. DNA Tests where Parentage is in Issue
VII. Domestic Violence
VIII. Proceedings under the Protection of Children (Hague Convention) Act 2000 and the Hague Convention on Jurisdiction, Applicable Law, Recognition, Enforcement and Co-Operation in respect of Parental Responsibility and Measures for the Protection of Children, 1996
IX. Section 12 of the Gender Recognition Act 2015
X. Section 40, Civil Liability and Courts Act 2004
Precedents
Part I: Divorce
Part II: Judicial Separation
Part III: Case Progression (and notice to fix a date for hearing – Dublin only)
Part IV: Application to the Court for service outside the jurisdiction
Appendix I: Service Out of the Jurisdiction


Contact Us
Contact Us
LegalBooks.ie
Legal & General Shop
The Law Society Building
The Four Courts
Dublin 7
01 8725522
info@legalbooks.ie
D07 N972

VAT number: IE4814267p


Payment & Security
Your payment information is processed securely. We do not store credit card details nor have access to your credit card information.