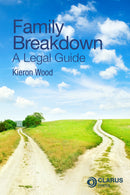 Description
Family Breakdown: A Legal Guide
A practical guide to the legal issues surrounding family law and relationship breakdown in Ireland
Product Description
Author: Kieron Wood | ISBN (PB): 978-1-905536-65-8 |
Format and Price: Paperback €49 | Publication Date: May 2014

"… compulsory reading …"
Betty Dinneen, Managing Solicitor (quoted in Law Society Gazette)

About
Family Breakdown: A Legal Guide, is a new, fully revised edition of Divorce In Ireland, first published in 1997 with a second edition in 2003.
Family Breakdown: A Legal Guide builds on the success of Divorce In Ireland, but has been expanded to include new family law issues, such as civil partnership and changed rules for common law spouses.
Family law in Ireland has witnessed immense changes in the last decade with, for example, the introduction of civil partnership in 2011, amendments to the in camera rules and developing European jurisprudence. The new Court of Appeal, civil legal aid and alternatives to court are covered in Family Breakdown: A Legal Guide, as well as the latest, comprehensive case-law from the Supreme Court and High Court on everything from divorce and judicial separation to annulment and pre-nuptial agreements.
Family Breakdown: A Legal Guide includes pension and tax advice, the potential pitfalls when making a will, up-to-date marriage regulations, practical advice on appearing in court and real-life questions and answers.
This book also includes a summary of all Irish family law legislation, legal forms, a glossary of legal terms and a list of useful websites and contacts.
About the Author
As a barrister, Kieron Wood practised in the area of family law and represented the first spouse to obtain a High Court divorce under the 1996 legislation. The first legal affairs correspondent of Radio Teilifís Eireann, he has also won two Law Society Justice Media awards. His previous books include The User's Guide to the High Court, The Kilkenny Incest Case and Contempt of Parliament (Clarus Press, 2012).
Contents include

Glossary of Legal Terms
Preface
Introduction to Family Law
Choices
Annulment
Judicial Separation
Divorce
Civil Partnership and Unmarried Couples
Children
Maintenance
Domestic Violence
The Family Home
Pre-Nuptial Agreements
Pensions and Tax
Wills
Legal Aid
Alternatives To Court
Your Day in Court
Marriage Regulations
European Legislation
Case Progression
Divorce Act Synopsis
Legal Forms
Family Law Legislation
Rules, Regulations and Reports
Useful Websites and Contacts
Questions and Answers

Who Should Buy This Book?
Family Breakdown: A Legal Guide will be an invaluable reference tool for all family lawyers in Ireland, fully referenced and cited for ease of use. But the book is useful for non-lawyers too, for the person with little or no knowledge of family law and for students starting legal studies.
Contact Us
Contact Us
LegalBooks.ie
Legal & General Shop
The Law Society Building
The Four Courts
Dublin 7
01 8725522
info@legalbooks.ie
D07 N972

VAT number: IE4814267p


Payment & Security
Your payment information is processed securely. We do not store credit card details nor have access to your credit card information.