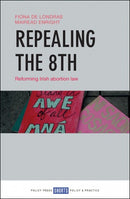 Description
Repealing the 8th
Reforming Irish abortion law
Mairead Enright & Fiona De Londras,
Birmingham Law School
Paperback 978 1 4473 4751 4
Feb 2018

Irish law only currently allows for abortion where the life of the pregnant woman is at risk. The
Taoiseach has announced that a constitutional referendum will be held in 2018 to liberalise abortion
law. This book offers practical proposals for policymakers and advocates, including model legislation,
making it an essential campaigning tool leading up to the referendum.
Market: Politicians and policy makers including members of parliament and civil servants in relevant
departments (e.g. Health, the Attorney General's office, and Justice), as well as advocates and
advocacy groups engaged in campaigns oriented towards the upcoming referendum. A core market
would also be academics and students (in and beyond Ireland) working on abortion, constitutional
reform, public health, and public policy and administration in hyper-restrictive regimes.
Key selling points:
 Draws connections between key constitutional and human rights arguments, and prominent
personal narratives familiar to an Irish audience;
 Directly challenges assumptions that restrictive grounds-based abortion law is workable and
constitutional;
 Includes concrete proposals for abortion law reform in Ireland, including model legislation,
which can be adapted by campaigners and pro-choice politicians.
Contents:
- Introduction: the case for reform
- Women's Rights and the Unborn after Repeal of the 8th Amendment
- From Grounds to Access: Difficulties with Exceptions-Based Abortion Law
- Pro-Choice Legislation and International Human Rights Law
- Model Legislation for After the 8th
- Conclusion

Author details:
Fiona de Londras is Professor of Global Legal Studies at Birmingham Law School. Her research
concerns constitutionalism, human rights and transnationalism. She is particularly interested in the
role and function of rights in contentious policy fields, enquiring about whether—and if so how—
rights shape the making of law and policy in complex contexts of, for example, counter-terrorism,
the of the European Court of Human Rights, and abortion law in Ireland.
Máiréad Enright is a Senior Lecturer at Birmingham Law School. Her research is in feminist legal
studies and law and religion. She is especially interested in how patriarchal legal and religious
structures can be resisted and changed.
Contact Us
Contact Us
LegalBooks.ie
Legal & General Shop
The Law Society Building
The Four Courts
Dublin 7
01 8725522
info@legalbooks.ie
D07 N972

VAT number: IE4814267p


Payment & Security
Your payment information is processed securely. We do not store credit card details nor have access to your credit card information.