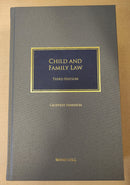 Description
Author: Geoffrey Shannon
Publisher: Round Hall
Publication Date: 10/12/2020
ISBN: 9780414056336
Jurisdiction: Ireland

The third edition of Child and Family Law provides a comprehensive narrative of the law and practice of child and family law in Ireland while also considering international and European Union law in an Irish context. This practitioner-led text tracks the rapid changes in Irish family law and the emergence of new assisted reproductive technologies, which challenge settled assumptions around parentage and biological relationships. The subject matter contained in the book provides an opportunity for examining the relationship that exists, or ought to exist, between child welfare and parental rights. It examines the rights and duties of parents and children in respect of each other. It considers how best to balance the welfare of children who may require care, with the right of children - and their families - to protection from unwarranted State intervention.

This greatly expanded edition of this major work provides a detailed account of recent developments in both child and family law. It considers the new constitutional provisions and several recent statutes as well as all the major judgments in the child and family law area. It also examines the updated District Court, Circuit Court and Superior Court Rules.

About the Author

Dr Geoffrey Shannon is a solicitor and leading authority in Child Law and Family Law. He is the current Chairman of the Adoption Authority of Ireland. He held the role of Special Rapporteur on Child Protection for the Irish government from 2006 to July 2019.
Dr Shannon is the recipient of several awards for his work in the area of national and international family law. These include the 2005 JCI Outstanding Person of the Year Award, the 2006 Canon Maurice Handy Award and the 2013 Irish Law Award. On 23 June 2017, Mr Justice Peter Kelly, the former President of the High Court presented Dr Shannon with the Dublin Solicitors Bar Association Award for outstanding contribution to legal scholarship for his entire work to date.
Contact Us
Contact Us
LegalBooks.ie
Legal & General Shop
The Law Society Building
The Four Courts
Dublin 7
01 8725522
info@legalbooks.ie
D07 N972

VAT number: IE4814267p


Payment & Security
Your payment information is processed securely. We do not store credit card details nor have access to your credit card information.