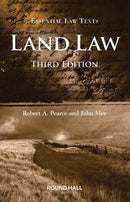 Description
Author: Robert Pearce, John Mee
Publisher: Round Hall Ltd
Edition:3 ed
ISBN: 9781858005928
Published: 31 Oct 2011
This book provides an accessible account of modern land law in both the Republic of Ireland and Northern Ireland emphasising the general principles of the law with frequent examples and diagrams to aid understanding. This edition has been expanded and updated to incorporate recent legislative and case law developments. It is a practical book that relates theory to practice, with examples of various forms used in the transfer of land.
The book is suitable for students preparing for examinations, for the lay reader who wants to gain an understanding of this important area of the law, and for those who wish to update their knowledge to take account of the significant changes that have been made in the Republic and in Northern Ireland by important legislation in the last decade. Contents include: Nature and classification of property; The diversity of rights in land; The influence of equity; Ownership and its limits; Fragmentation of ownership through tenure; Division of ownership over time; Future interests; Co-ownership; Acquisition and transfer of land inter vivos; Succession on death; Adverse possession; Trusts of land and settled land; Licences and informally created interests in land; Servitudes; Covenants; Security.
Contact Us
Contact Us
LegalBooks.ie
Legal & General Shop
The Law Society Building
The Four Courts
Dublin 7
01 8725522
info@legalbooks.ie
D07 N972

VAT number: IE4814267p


Payment & Security
Your payment information is processed securely. We do not store credit card details nor have access to your credit card information.