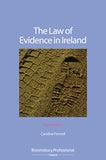 Description
Author: Caroline Fennell
Publishing: 18-02-2020
Format: Paperback
Edition: 4th
ISBN: 9781526504890
This the fourth edition gives an up-to-date account of the law of evidence in Ireland.
The text is of interest to all those working in the Irish legal system, the criminal legal system in particular as well as to policy makers and those studying more general issues related to matters of trial, adjudication and fact-finding in various contexts.
It explores the development of a particular Irish dimension to evidence scholarship, which is based on constitutional notions of fairness. In light of the incorporation of the ECHR, this must continue to be influential in this and possibly other jurisdictions. The phenomenon of the Special Criminal Court is considered and in the Criminal Justice (Forensic Evidence and DNA Database System) Act 2014 is also considered in detail.
Table Of Contents
1 Rules of Evidence
2 The Constitutionalism of the Irish Criminal Process
3 Basic Concepts of the Law of Evidence
4 Illegally Obtained Evidence
5 Witness System: Competence and Compellability
6 Witness System: Corroboration
7 Opinion Evidence
8 Privilege
9 The Rule against Hearsay
10 Similar Fact Evidence
11 Cross-Examination of the Accused
Contact Us
Contact Us
LegalBooks.ie
Legal & General Shop
The Law Society Building
The Four Courts
Dublin 7
01 8725522
info@legalbooks.ie
D07 N972

VAT number: IE4814267p


Payment & Security
Your payment information is processed securely. We do not store credit card details nor have access to your credit card information.