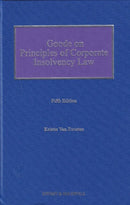 Description
Kristin van Zwieten
ISBN13: 9780414034488
New Edition ISBN: GOOD6th
Previous Edition ISBN: 9780421966109
Published: October 2018
Publisher: Sweet & Maxwell Ltd
Country of Publication: UK
Format: Hardback
The classic text on corporate insolvency law, providing a clear and comprehensive treatment of the fundamental principles underpinning insolvency law, and long relied upon by practitioners and the courts.
In this work particular attention is paid to what assets are available for distribution on insolvency, transactions vulnerable to being set aside, and the liability of directors. The core features of liquidation, administration (and administrative receivership), schemes of arrangement and company voluntary arrangements, are identified and explained with reference to practice and underlying policy.
This new edition has been thoroughly updated throughout.
Key features
Explores the framework and fundamental principles of corporate insolvency law, a knowledge of which is essential to an understanding of this complex field
Combines conceptual clarity with a rigorous analysis of the many difficult problems confronting the practitioner
Provides a comprehensive and up-to-date coverage of key features of increasingly complex insolvency legislation and a mass of case law
Contains a detailed treatment of the recast EU Insolvency Regulation and of the Cross-Border Insolvency Regulations which incorporate the UNCITRAL Model Law
New to this edition
Analysis of recent developments in the case law, including the Supreme Court decisions in the Lehman 'Waterfall I' proceedings, Akers v Samba Financial Group, Bilta (UK) Ltd v Nazir, Re Nortel GmbH, Rubin v Eurofinance SA, BNY Corporate Trustee Services Ltd v Eurosail, and Belmont Park Investments
Expanded treatment of the anti-deprivation and pari passu rules, in light of recent case law
Considers changes in the recast European Insolvency Regulation and related recent CJEU case law
Coverage of the new Insolvency Rules 2016
Contents:

The Framework of Corporate
Insolvency Law
The Philosophical Foundations
of Corporate Insolvency Law
The Principles
of Corporate Insolvency Law
The Concept of
Corporate Insolvency Law
The Winding-Up
Process: An outline
Winding-Up: Assets Available
for Distribution
The Proof, Valuation and Ranking
of Claims in Winding-Up
Set-Off and Netting
Administrative Receivership
Administration and
Reorganisation
The Avoidance of Transaction on
Winding-Up or Administration
Improper Trading
and Duties and Liabilities and Directors
Cross-Border Insolvency
International Insolvency.
Contact Us
Contact Us
LegalBooks.ie
Legal & General Shop
The Law Society Building
The Four Courts
Dublin 7
01 8725522
info@legalbooks.ie
D07 N972

VAT number: IE4814267p


Payment & Security
Your payment information is processed securely. We do not store credit card details nor have access to your credit card information.