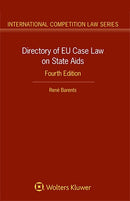 Description
By: Rene Barents 
ISBN: 9789403544410
Published: 6 Jun 2022
International Competition Law Series #37
About this book:
Directory of EU Case Law on State Aids, currently in its fourth edition, is a nonpareil book covering the relevant case law of both the Court of Justice and the General Court of the European Union (EU). The current edition of this crucial book follows the same proven format as its predecessors, updates its analysis of case law with hundreds of new decisions by the courts of the EU, and thus continues to be the quickest source of reference for practitioners working with EU State aid matters. A highly organized sequence of subject headings is followed and it presents extracts from all judgments and orders of both the courts of the EU on the Treaty on the Functioning of the European Union (TFEU) rules on State aids. A new chapter on legal protection and additional material on the concept of State aid, advantages for undertakings, selectivity, forms of State aid, procedures and unlawful aids also form a part of this edition.
What's in this book:
This book will furnish practitioners with relevant paragraphs and full citations regarding all issues raised by Articles 107-109 TFEU, including, inter alia, the following:
-       territorial scope of State aids;
-       Article 107(1) EC and WTO Agreements;
-       conditions for categorizing a national measure as State aid;
-       free movement of goods;
-       undertakings;
-       private versus public investment;
-       justification of selective measures;
-       interstate trade and competition;
-       tax measures;
-       restructuring aids;
-       procedural aspects; and
-       locus standi of trade associations.
In several instances, the extracts relate to points of the judgments which are either not or only partially covered in official summaries.
How this will help you:
For accessibility of this case law, this updated edition of the eminent analysis of EU State aid case law is peerless. This book will prove to be indispensable to practitioners in this key area of EU competition law.
Table of Contents:
Preface
List of Abbreviations
CHAPTER 1
Article 107(1) TFEU: Aim and Scope
CHAPTER 2
Prohibition of Article 107(1) TFEU
CHAPTER 3
Concept of State Aid
CHAPTER 4
Undertakings
CHAPTER 5
Advantage for Undertakings
CHAPTER 6
Test of a Private Operator in a Market Economy
CHAPTER 7
Requirement of Selectivity
CHAPTER 8    
Aid Granted by the State or Through State Resources
CHAPTER 9    
Intra-Union Trade and Competition
CHAPTER 10 
Direct Taxation and the State Aid Provisions
CHAPTER 11 
Taxes for the Financing of State Aids
CHAPTER 12 
Forms of State Aid
CHAPTER 13 
Aid for the Financing of Public Services
CHAPTER 14 
Compatible State Aids (Article 107(2) and (3) TFEU)
CHAPTER 15 
Guidelines of the Commission
CHAPTER 16 
Supervision of State Aids (Article 108 TFEU)
CHAPTER 17 
Existing Aids and New Aids
CHAPTER 18 
Aid Schemes
CHAPTER 19  
Notification of Aid Plans
CHAPTER 20 
Preliminary Investigation Procedure
CHAPTER 21 
Formal Investigation Procedure
CHAPTER 22  
Unlawful Aid
CHAPTER 23 
Recovery of Unlawful Aid
CHAPTER 24 
Statement of Reasons of State Aid Decisions
CHAPTER 25  
Proceedings Brought by the Commission Against a Member State
CHAPTER 26 
Judicial Protection: General Issues
CHAPTER 27 
Judicial Protection of Competitors
CHAPTER 28 
Complaints on State Aid
CHAPTER 29 
Derogations under Article 108(2) Tfeu
Appendix I
Articles 107-109 TFEU
Appendix II
Council Regulation (EU) 2015/1589 of 13 July 2015 laying down detailed rules for the application of Article 108 of the Treaty on the Functioning of the European Union (codification) (Text with EEA relevance)
Contact Us
Contact Us
LegalBooks.ie
Legal & General Shop
The Law Society Building
The Four Courts
Dublin 7
01 8725522
info@legalbooks.ie
D07 N972

VAT number: IE4814267p


Payment & Security
Your payment information is processed securely. We do not store credit card details nor have access to your credit card information.