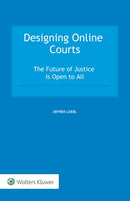 Description
By: Zbynek Loebl
ISBN:9789403517049
Published: 1 Nov 2019
Designing Online Courts provides a template for how online courts should be designed with a focus on end-users of the justice system. The newest phenomenon in the field of online dispute resolution (ODR) is the emergence of online courts. New online courts are radically different from traditional courts and this will continue. Holding great promise for end-users of the justice system, online courts can expand access to remedies, improve efficiency and lead to greater fairness and even cost savings. Nonetheless, there is a danger that the rush to digitization will compromise due process or the need for careful re-designing of judicial procedures. This book, focusing on ethical issues and key implementation topics, is the first to provide a comprehensive template for how online courts should be designed. It recognizes the need to adapt dispute resolution to a new environment in which constraints of space and time are lifted as cross-border transactions and instant communication become commonplace.
What's in this book:
The author is well known for his contributions to the development of the ODR movement. In this book he describes and analyses features of online courts such as the following:
-       how to use technologies such as predictive analytics and artificial intelligence (AI) for judicial tasks;
-       how to approach the potential for international standardization;
-       how to plan for cooperation rather than competition with private ODR platforms; and
-       how to avoid the mistakes of the earliest online courts.
Throughout, the author stresses the need for developing open ODR standards, schemes and specifications for open-source software.
How this will help you:
This book being one of the first books ever written on the topic of online courts with its detailed first-hand information about which online courts have succeeded and why, and its authoritative predictions regarding future trends, serves as the go-to information and education source for judges and administrators, as well as for lawyers, public officials and platform designers worldwide. This book will encourage others to experiment with ODR and guide their thinking along the way.
Table Of Contents:
Foreword
Acknowledgments
Introduction
CHAPTER 1
ODR and Access to Justice
CHAPTER 2
First Online Civil Courts
CHAPTER 3
Designing Online Courts: Ethical Issues
CHAPTER 4
Designing Online Courts: Implementation Issues
CHAPTER 5
Future Hurdles and Perspectives
CHAPTER 6
Open ODR Processes for Civil, Commercial and Administrative Cases
Book Summary
ANNEX 1
Customer Door Codes
ANNEX 2
Composite Parts of Standard ODR Processes (Initial Draft)
Contact Us
Contact Us
LegalBooks.ie
Legal & General Shop
The Law Society Building
The Four Courts
Dublin 7
01 8725522
info@legalbooks.ie
D07 N972

VAT number: IE4814267p


Payment & Security
Your payment information is processed securely. We do not store credit card details nor have access to your credit card information.