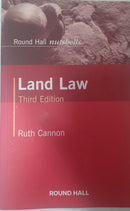 Description
Author: Ruth Cannon
Publisher: Round Hall
Publication Date: 08/12/2020
ISBN: 9780414074958
Jurisdiction: Ireland
Round Hall's long-awaited third edition of the popular Land law Nutshell is framed with particular regard to students who seek a straightforward introduction to Land law, as well as those revising for exams. This text provides a useful springboard for the further study of cases and commentaries in this area.
Features:
- Condensed principles of Land law
- Key legislative developments since the second edition in 2011, including the Landlord and Tenant (Group Rents) (Amendment) Act 2019 and important amendments to the Residential Tenancies Act 2004 and the Land and Conveyancing Law Reform Act 2009.
- Details of relevant case law up to and including 2020
Land law is a core subject and this text covers all the required areas, such as:
- Freehold Ownership
- Hybrid Interests
- Co-ownership
- Easements
- Freehold Covenants
- Licences and Estoppel
- Leasehold Ownership
- Mortgages
- Transfer of Land
- Adverse Possession
- Succession Law
Contact Us
Contact Us
LegalBooks.ie
Legal & General Shop
The Law Society Building
The Four Courts
Dublin 7
01 8725522
info@legalbooks.ie
D07 N972

VAT number: IE4814267p


Payment & Security
Your payment information is processed securely. We do not store credit card details nor have access to your credit card information.