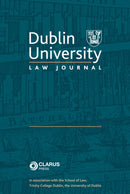 Description
Editors: Dr Patricia Brazil, Dr David Fennelly 
ISBN: 978911611738
Published: 12 May 2022
The Dublin University Law Journal is published by Clarus Press on behalf of the School of Law, Trinity College, Dublin. It is a leading peer-reviewed legal journal, publishing authoritative, critical and scholarly analysis on a broad range of legal issues. It provides a forum for important legal academic debate on contemporary Irish law as well as developments from further afield in the common law world, in European and international law, and in legal theory. The journal publishes longer articles providing in-depth analysis of a wide range of legal issues, as well as shorter articles, comments and case-notes providing up-to-date analysis of recent developments and book reviews providing critical assessment of important legal publications. The Dublin University Law Journal thus provides accessible and balanced coverage of a wide spectrum of current and enduring issues in law and legal scholarship.
The Dublin University Law Journal will now publish twice annually.
Volume 42, issue 2, 2019/20 contains the following:
Articles
An Analysis of the Judicial Council Act | Laura Cahillane
Dependent Migration and Domestic Violence in Ireland: Implementing Article 59(1) of the Istanbul Convention | Conor Hanly
Immigration Control: Drawing the line between Legislative and Executive Power | Aoife McMahon
The Legacy of Airey v Ireland and the Potential of European Law in Relation to Legal Aid | Síofra O'Leary
This issue also includes Short Articles and Book Reviews including:
The Nemo Iudex in Causa Sua Principle: Getting the Balance Right | Hilary Biehler
Climate Action and Constitutional Property Rights – Partners or Adversaries? | Rachael Walsh
Searching For WPM Kennedy – The Biography Of An Enigma By Martin L Friedland | Reviewed By Thomas Mohr
See also contents for:
Volume 42(1) 2019
Volume 41(2) 2018
Volume 41(1) 2018
Volume 40(2) 2017
Volume 40(1) 2017
Volume 39(2) 2016
Volume 39(1) 2016
Volume 38(2) 2015
Volume 38(1) 2015
Volume 37 2014
Volume 36 2013
Contact Us
Contact Us
LegalBooks.ie
Legal & General Shop
The Law Society Building
The Four Courts
Dublin 7
01 8725522
info@legalbooks.ie
D07 N972

VAT number: IE4814267p


Payment & Security
Your payment information is processed securely. We do not store credit card details nor have access to your credit card information.