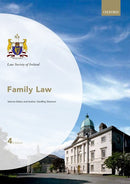 Description
Law Society of Ireland Manuals Family Law
Fourth Edition
Edited by Geoffrey Shannon
Published: 14 July 2011

This manual provides an authoritative account of Irish family law legislation and procedure, and is the core text for the Law Society of Ireland's Family Law Professional Practice Course
Written by Ireland's expert in child law and the country's representative on the Commission on European Family Law, the book offers clear and comprehensive coverage of all aspects of current family law practice in Ireland
The manual deals with a number of key issues such as divorce legislation, separation agreements and the law relating to children, and will be an essential reference for students and practitioners alike
The fourth edition has been fully updated to include all recent developments in family law, particularly in the light of the Civil Partnership and Certain Rights and Obligations of Cohabitees Act 2010
Family Law is part of the successful Law Society of Ireland Manuals series which provides a unique guide to the law, practice and procedure in Ireland
Fully updated to record recent legislative changes introduced by the Civil Partnership and Certain Rights and Obligations of Cohabitees Act 2010
Contains revised coverage of separation agreements, judicial separation, divorce and ancillary orders, and child law
Features a more comprehensive, up to date chapter on the non-marital family
Fully revised to reflect developments in solicitors' anti-money laundering obligations
 
Description

Family Law provides a comprehensive guide to family law legislation and practice in Ireland. It is an essential tool for family law students and practitioners but also for those outside of the legal profession whose work crosses over this area of law, and those with a general interest in how family law operates in Ireland.

Edited by a leading expert in the field, this fourth edition covers extensive areas of family law practice in Ireland and has been fully updated to include recent significant legislative changes introduced by the Civil Partnership and Certain Rights and Obligations of Cohabitees Act 2010. It contains revised coverage of separation agreements, judicial separation, divorce and ancillary orders, as well as of the law relating to children.
 
Table of Contents

1. Taking Instructions in Family Law
2. Nullity
3. Separation Agreements
4. Judicial Separation and Divorce
5. Maintenance
6. Ancillary Orders, Procedure and Discovery on Judicial Separation and Divorce
7. Pensions on Separation and Divorce
8. Recognition of Foreign Divorce Decrees
9. Tax Implications of Marriage Breakdown
10. Domestic Violence
11. Child Law
12. The Non-Marital Family
13. Child Abduction
Author Information

Geoffrey Shannon, Solicitor and Senior Lecturer in Family and Child Law at the Law Society of Ireland
Contact Us
Contact Us
LegalBooks.ie
Legal & General Shop
The Law Society Building
The Four Courts
Dublin 7
01 8725522
info@legalbooks.ie
D07 N972

VAT number: IE4814267p


Payment & Security
Your payment information is processed securely. We do not store credit card details nor have access to your credit card information.