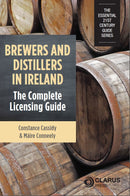 Description
Author: Constance Cassidy and Máire Conneely
ISBN: 9781911611370
Format: PaperBack
Publication Date: 3 August 2021
This publication is the second book in The Essential 21st Century Guide series published by Clarus Press.
The distillation (sometimes illegal) of uisce beatha, poitín and gin has existed in Ireland over many centuries. In 1806, over 25% of the entire production of Irish whiskey was estimated to come from illicit stills. While the process of brewing and distilling has come a long way since the days Molly Gallivan produced her homemade poitín known as Molly's Mountain Dew in the Kerry Mountains, laws from 1831 still apply to breweries and distilleries today.
In 1887, the annual output of whiskey manufactured in Ireland was 10,620,584 gallons. There were many thriving distilleries in Dublin and Cork, and in Tullamore and Kilbeggan, and elsewhere, many of which still survive and are indeed thriving today. As of June 2019, Ireland has twenty-five distilleries in operation, with a further twenty-four either planned or under development.  As of 2018, sales of Irish whiskey stood at 10.7 million 9-litres cases, up from 4.4 million cases in 2008, with sales projected to exceed 12 million cases (its historical peak) by 2020.
For the first time, this handbook draws together the licensing laws governing breweries and distilleries from the Illicit Distillation (Ireland) Act 1831 to the Intoxicating Liquor (Breweries and Distilleries) Act 2018.
Brewers and Distillers in Ireland: The Complete Licensing Guide discusses all the different types of manufacturers' licences, the rights and obligations of the manufacturer and how to obtain a manufacturer's licence from Revenue.
The sale of the manufactured product by wholesale is also discussed, as is its retail sale, which was introduced for the first time by the Act of 2018.
Differing permitted hours for on-sales and off-sales are discussed, as are offences and penalties.
The Intoxicating Liquor (Breweries and Distilleries) Act 2018 has allowed for the first time the retail sale of alcohol (spirits and/or beer) on the premises where such alcohol is manufactured.
Content
Part I: Licences: Manufacturer
Chapter 1: Manufacturers' Licences

Chapter 2: Distiller of Spirits

Chapter 3: Rectifier of Spirits, Compounder of Spirits

Chapter 4: Brewer of Beer for Sale

Chapter 5: Maker of Cider or Perry for Sale

Chapter 6: Maker for Sale of Sweets
Part II: Wholesale Dealing and Retail Sale
Chapter 7: Wholesale Dealing

Chapter 8: Producer's Retail Licence
Part III: Practical Issues
Chapter 9: Offences and Penalties

Chapter 10: Practice and Procedure
Appendix 1: Forms
Appendix 2: The Intoxicating Liquor (Breweries and Distilleries) Act 2018
Appendix 3: Rules of Court
About the Authors
Constance Cassidy SC is a practising barrister and is the author of a number of texts on licensing law in Ireland.
Máire Conneely is a solicitor at A&L Goodbody and a leading expert on licensing law in Ireland.
Contact Us
Contact Us
LegalBooks.ie
Legal & General Shop
The Law Society Building
The Four Courts
Dublin 7
01 8725522
info@legalbooks.ie
D07 N972

VAT number: IE4814267p


Payment & Security
Your payment information is processed securely. We do not store credit card details nor have access to your credit card information.