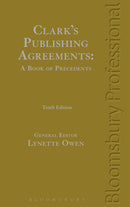 Description
Clark's Publishing Agreements has long been the 'must have' legal resource for the publishing industry. This comprehensive book provides 24 model agreements, from author agreements, to merchandising rights to online licensing to ebook distribution to text and data mining.
It includes a "Legal Developments" introduction giving an overview of existing and forthcoming legislation (UK and international). It also covers new initiatives undertaken by the industry and acts as an essential checklist for industry professionals. The impact of these developments have been updated in the precedents, their accompanying notes and appendices.
It also includes an "Introduction to Electronic Precedents" which highlights the continuing developments in the field of technology and their impact on licensing practice and contractual wording.
For the tenth edition all the precedents, explanatory notes and appendices have been thoroughly revised to take account of the latest developments including:
- the Copyright, Designs and Patents Act 1988
- coverage of the new EU DSM directive and its impact on TDM
- coverage of the ratification of the Marrakesh Treaty which introduces a broad range of new copyright exceptions for people who are visually impaired (or who have other print disabilities)
- new appendices on library aggregators and Creative Commons licences
Whether an experienced drafter of publishing agreements or new to the industry Clark's Publishing Agreements will prove invaluable in ensuring that your publishing agreements are expertly and effectively drafted.
This book comes with an electronic download of the precedents for you to adapt and use in your contracts. On purchase, you will be provided with a code and a web link from which the precedents can be downloaded in a generic format such as *.doc which will be compatible with all operating systems.
TABLE OF CONTENTS
1 General Book: Author–Publisher Agreement
2 Educational, Academic, Scientific and Professional Book: Author–Publisher Agreement
3 Agreement for General Editor of a Book
4 Agreement for Contributor to a Book
5 Book Series: Editor–Publisher Agreement
6 Academic Journal: Editor's Agreement
7 Society-Owned Journal: Publishing Agreement
8 Journal Contributor Agreements
9 Agreements for Serial Rights
10 Translator's Agreement
11 Agreement for Sale of Translation Rights
Appendix: The People's Republic of China, Central and Eastern Europe and the Post-Soviet Union Republics
12 Same-Language Low-Priced Reprint Agreement
13 Illustration and Artwork Agreement
14 Packaging Rights Agreement
15 International Co-edition Agreement
16 Film, Television and Allied Rights: Option Agreement and Assignment
17 Merchandising Rights Agreement
Introduction to Electronic Precedents
18 Licence to Digital Media Producer to Use Existing Print Material in Carrier Form
19 Licence to Institution to Make Existing Print Material Available by Local Networks to End Users within its Own Site
20 Licence to Institution to Use Material Supplied in Electronic Form
21 Online Access to Database Agreement
22 EBook Distribution Agreement
23 App Development Agreement
24 Text and Data Mining (TDM): Sample Clauses for Subscription Agreement for Copyright-protected Works and Materials Accessible or Delivered in Minable Formats
Appendix A The US Market
Appendix B Paperback and Hardback Reprint Rights
Appendix C Licensing Permission Rights
Appendix D Collective Licensing of Reproduction Rights
Appendix E People with Disabilities
Appendix F Academic Library Aggregators
Appendix G Creative Commons Licences
Appendix H Reversionary Provisions of the Copyright Act 1911
Appendix I Moral Rights
Appendix J Publishers Association Code of Practice on Author Contracts
Appendix K Territories of the World
Appendix L Member States of the International Copyright Conventions
Appendix M Useful Names and Addresses
Contact Us
Contact Us
LegalBooks.ie
Legal & General Shop
The Law Society Building
The Four Courts
Dublin 7
01 8725522
info@legalbooks.ie
D07 N972

VAT number: IE4814267p


Payment & Security
Your payment information is processed securely. We do not store credit card details nor have access to your credit card information.