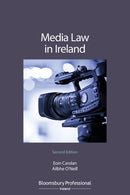 Description
About Media Law in Ireland
From fake news to foreign affairs, the media continues to be one of the dominating forces of modern life. Now in its second edition, Media Law in Ireland provides a comprehensive overview of one of the most dynamic and rapidly changing areas of the law.

The way in which people consume media has changed and developed immensely in recent years. New platforms, and new ways of creating and consuming content are revolutionising the way information is spread around the world. With each new platform comes a new set of challenges and complexities, as they break away from the traditional media model. Many of the cases developing in these areas have been high-profile, divisive, and controversial, from issues surrounding freedom of expression to the challenges of privacy in a digital age. This book will throw light on the formidable legal complexities involved in the new media in a clear and accessible manner.

This new edition covers many of the developments in the area in the eight years since it was originally published. Among the developments covered are: the Digital Switchover, the adoption of the EU electronic communications reform package, and the Consumer and Competition Protection Act 2014. This book will be ideal for solicitors and barristers who practice in the area of media law, as well as postgraduate students, and media professionals.
Chapter 1. Theories of Freedom of Expression and the Media 
Chapter 2. Freedom of Media Expression under the Constitution and the Convention 
Chapter 3. Censorship and Public Morality 
Chapter 4. The Media and Politics 
Chapter 5. The Media and the Courts 
Chapter 6. Defamation 
Chapter 7. Privacy 
Chapter 8. Broadcasting Regulation in Ireland 
Chapter 9. Regulation of the Press 
Chapter 10. Media Ownership
Contact Us
Contact Us
LegalBooks.ie
Legal & General Shop
The Law Society Building
The Four Courts
Dublin 7
01 8725522
info@legalbooks.ie
D07 N972

VAT number: IE4814267p


Payment & Security
Your payment information is processed securely. We do not store credit card details nor have access to your credit card information.