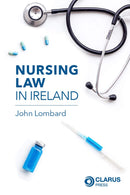 Description
Author: John Lombard
ISBN:  9781911611349
Format: Paperback
Publishing:  October 2020
Nursing Law in Ireland provides an accessible yet thorough overview of the key legal, ethical, and professional dimensions of nursing in Ireland. This book addresses a wide range of topics including: negligence; decision-making; confidentiality; the role of the nurse prescriber; the regulation of reproduction; end-of-life issues; and the contract of employment. The author  draws on case law, legislation, human rights instruments, and professional standards in order to provide a holistic and detailed analysis of the topics.
Content Includes
Chapter 1: Introduction 
Chapter 2: An Introduction to the Irish Legal System 
Chapter 3: The Nursing and Midwifery Board of Ireland 
Chapter 4: Negligent Practice in Nursing and Midwifery 
Chapter 5: Patient Autonomy and Decision-Making 
Chapter 6: Confidentiality and Access to Personal Health Information 
Chapter 7: The Administration of Medicines 
Chapter 8: Legal Aspects of Pregnancy 
Chapter 9: Legal Aspects of End-of-Life Treatment and Care 
Chapter 10: Research Ethics
About the Author
Dr John Lombard is a lecturer in law in the University of Limerick, he researches in the areas of medical law, bioethics, and intellectual property law. He has researched extensively in the area of end-of-life care and has published a research monograph titled Law, Palliative Care, and Dying: Legal and Ethical Challenges (Routledge 2018).
Who Should Buy This Book?
Nursing Law in Ireland is an indispensable text for nurses and midwives. This book will also be suitable for health and social care professionals, undergraduate and postgraduate nursing students, legal practitioners, and persons generally seeking a deeper understanding of the legal framework in which nurses and midwives practice.
Contact Us
Contact Us
LegalBooks.ie
Legal & General Shop
The Law Society Building
The Four Courts
Dublin 7
01 8725522
info@legalbooks.ie
D07 N972

VAT number: IE4814267p


Payment & Security
Your payment information is processed securely. We do not store credit card details nor have access to your credit card information.