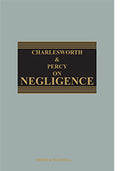 Description
14th Edition, Mainwork & 2nd Supplement
Series:Â  Common Law Library
Practice Area:Â  Litigation, Tort
ISBN:Â  9780414071179
Published by:Â  Sweet & Maxwell
General Editors:Christopher Walton; Philip Kramer; Roger Cooper; Stephen Todd; Richard Hyde; Mark Armitage
Publication Date:Â  31 May 2020
Subscription Information:Â  Non-Subscribable Product
Format:Â  Hardback, Paperback
PRODUCT
DESCRIPTIONCONTENTSAVAILABLE
ONLINE
PRODUCT DESCRIPTION
 
 
Set up a standing order and save
Charlesworth & Percy on Negligence is the principal guide to a complex area of the law, providing unrivalled depth of analysis into the tort of negligence. The Second Cumulative Supplement to the Fourteenth Edition brings the main work up to date with all the recent developments including:
 
In the Supreme Court
GN v Poole BC [2019] UKSC 25
Vedanta Resources plc v Lungowe [2019] UKSC 20
Singularis Holdings Ltd v Daiwa Capital Markets Europe Ltd [2019] UKSC 50
Perry v Raleys Solicitors [2019] UKSC 5
In the Court of Appeal
Royal Opera House Covent Garden Foundation v Goldscheider [2019] EWCA Civ 711
Mackenzie -v- Alcoa Manufacturing (GB) Limited [2019] EWCA Civ 2110
Seddon v Driver and Vehicle Licensing Agency [2019] EWCA Civ 14
Lessees and Management Company of Herons Court v Heronslea Ltd [2019] EWCA Civ 1423
Features
Sets out comprehensively the general principles, covering duty of care and liability issues under the tort of negligence including the Christian Brothers test to establish vicarious liability
Shows how the principles developed through the application of the common law and explains how the law of negligence has been applied in the UK and Commonwealth jurisdictions
Explains what remedies may be available, including damages, and investigates the remoteness of damages as a remedy
Explains the burden of proof in negligence cases
Demonstrates the defences and discharges from liability
Demonstrates the standard of care principle in relation to persons professing some special skill, highways and transport, employee employer relationship
Provides an essential reference for every negligence case whether it is to do with personal injury including resulting in death, property, product liability and injury caused by animals and death
 
 
Contact Us
Contact Us
LegalBooks.ie
Legal & General Shop
The Law Society Building
The Four Courts
Dublin 7
01 8725522
info@legalbooks.ie
D07 N972

VAT number: IE4814267p


Payment & Security
Your payment information is processed securely. We do not store credit card details nor have access to your credit card information.