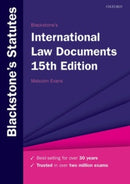 Description
Edited by: Malcolm Evans

Series: Blackstone's Statute Series
Publisher: Oxford University Press
Edition: 15 Revised edition

ISBN: 9780198867081

Published: 22 Jul 2021

Unsurpassed in authority, reliability and accuracy; the 15th edition has been fully revised and updated to incorporate all relevant legislation for international law courses. Blackstone's International Law Documents is an abridged collection of legislation carefully reviewed and selected by Sir Malcolm Evans. With unparalleled coverage of international law, Blackstone's International Law Documents leads the market: consistently recommended by lecturers and relied on by students for exam and course use.

Blackstone's International Law Documents is: - Trusted: ideal for exam use - Practical: find what you need instantly- Reliable: current, comprehensive coverage - Relevant: content reviewed to match your course Digital formats and resources This edition is also available for students and institutions to purchase in digital format and is supported by online resources. - The e-book offers convenient access along with functionality tools and navigation features that offer extra learning support www.oxfordtextbooks.co.uk/ebooks - The online resources include video guides to reading and interpreting statutes, web links, exam tips, and an interactive sample Act of Parliament.
Contact Us
Contact Us
LegalBooks.ie
Legal & General Shop
The Law Society Building
The Four Courts
Dublin 7
01 8725522
info@legalbooks.ie
D07 N972

VAT number: IE4814267p


Payment & Security
Your payment information is processed securely. We do not store credit card details nor have access to your credit card information.