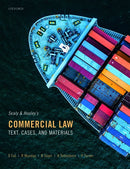 Description
Sealy and Hooley's Commercial Law: Text, Cases, and Materials provides students with an extensive and valuable range of extracts from key cases and writings in this most dynamic field of law. The authors' expert commentary and questions enliven each topic while emphasizing the practical application of the law in its business context.
Five renowned experts in the field continue the legacy of Richard Hooley and Len Sealy, capturing the essence of this fascinating topic at a time of significant legislative, regulatory, and political change.
TABLE OC CONTENTS
1: Introduction
1:An introduction to commercial law
2:Basic concepts of personal property
3:Bailment
2: The Law of Agency
4:Introduction
5:Creation of agency and the authority of the agent
6:Relations with third parties
7:Relations between principal and agent
3: Domestic Sales Law
8:Introduction and definitions
9:Passing of the property in the goods as between seller and buyer
10:Transfer of title
11:Seller's obligations as to quality
12:Performance of the contract
13:Remedies of the seller
14:Remedies of the buyer
4: International Sales
15:International sales
5: Payment Methods
16:Modern payment systems
17:Payment cards
18:Negotiable instruments
19:Bills of exchange
20:Cheques and other instruments
6: The Financing of International Trade
21:The financing of international trade
22:Assignment of choses in action
23:Receivable financing
7: Commercial Credit and Security
24:Introduction
25:Possessory security
26:Non-possessory security
8: Principles of Insurance Law
27:Insurance
9: Insolvency Law
28:Insolvency
Contact Us
Contact Us
LegalBooks.ie
Legal & General Shop
The Law Society Building
The Four Courts
Dublin 7
01 8725522
info@legalbooks.ie
D07 N972

VAT number: IE4814267p


Payment & Security
Your payment information is processed securely. We do not store credit card details nor have access to your credit card information.