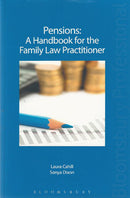 Description
By Laura Cahill and Sonya Dixon
Publication Date: Jun-13
ISBN: 9781780432045
Pensions - A Handbook for the Family Law Practitioner is a practical guide dealing with pensions in the context of family law in Ireland. There is no other book in the Irish market dealing directly with this topic.
Pensions are one of the most valuable marital assets and cause problems every day for family law practitioners. As a result, many barristers and solicitors employ a pension expert to advise on drafting pension adjustment orders, which leads to delays in cases and increased legal costs.
The book provides a guide to practitioners through the minefield of pension adjustment orders and other pension aspects of family law. A highly practical book, it contains commentary, legislation, precedents and forms. It includes coverage of the Family Law Act 1995 and the Family Law (Divorce) Act 1996 and regulations.
Table of Contents
-The legislation and regulations governing Pension Adjustment Orders (PAOs)
-The types of pensions
-The types of Order a Court can make
-The Effects of the Court Orders
-Restructuring pension funds and its effect on PAOs
-Foreign pensions and their problems
-Proposed input from a pension expert and the Ombudsman
-Problems with the legislation and need for reform
-Model PAO drafts.
Contents
-Chapter 1: Types of Pensions
-Chapter 2: The Legislation Governing Pension Adjustment Orders
-Chapter 3: The Types of Orders a Court can make, Procedure and Valuing the Assets
-Chapter 4: The Operation of Pension Adjustment Orders
-Chapter 5: Restructuring Pensions and its Effects on Pensions Adjustment Orders
-Chapter 6: Recognition and Enforcement of Pension Adjustment Orders in Other EU States
-Chapter 7: Spousal/Dependants Pensions
-Chapter 8: Pensions Problems in a Family Law Context
-Chapter 9: Draft Pension Adjustment Orders
Contact Us
Contact Us
LegalBooks.ie
Legal & General Shop
The Law Society Building
The Four Courts
Dublin 7
01 8725522
info@legalbooks.ie
D07 N972

VAT number: IE4814267p


Payment & Security
Your payment information is processed securely. We do not store credit card details nor have access to your credit card information.