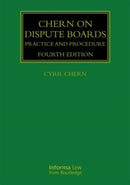 Description
By Cyril Chern
Publisher: Taylor & Francis Ltd
Imprint: CRC Press
Edition: 4 New edition
ISBN: 9780367085957
Published: 25 Sep 2019
Chern on Dispute Boards examines the law of dispute boards and their development internationally, while also covering procedural topics that are of particular concern to those utilising dispute boards. It deals with advanced practitioner issues in the emerging law of dispute boards on an international scale, laying out their methods and methodology not only under the common law, but also under other legal systems such as Civil law and Shari'ah law. Excelling in describing the "how and why", this book also gives samples and/or forms of actual working dispute boards that any practitioner could use and adapt to their own needs.
This updated fourth edition explains the various international formats and types of dispute boards in use today and brings readers up-to-date on the ever-evolving law within the field. The text guides the reader through the complexities of actual commercial and construction disputes and their successful resolution and also presents a way forward for the dispute board members themselves to administer actual dispute boards all over the world. This book is essential reading for construction lawyers, engineers and dispute board stakeholders worldwide.
Contact Us
Contact Us
LegalBooks.ie
Legal & General Shop
The Law Society Building
The Four Courts
Dublin 7
01 8725522
info@legalbooks.ie
D07 N972

VAT number: IE4814267p


Payment & Security
Your payment information is processed securely. We do not store credit card details nor have access to your credit card information.