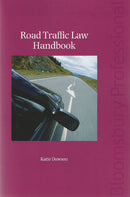 Description
by Katie Dawson
ISBN13: 9781847667199
Published: March 2011
Publisher: Bloomsbury Professional (Ireland)
Country of Publication: Ireland
Format: Paperback
The Road Traffic Law Handbook is an Irish practitioner's handbook in respect of Road Traffic Law (RTL) offences. The area of RTL is mammoth with 11 Road Traffic Acts since 1961 and countless statutory instruments.
This handbook provides practitioners with an easy, accurate reference to categories of offences routinely before court and gives up to date information as to applicable penalties/ disqualification periods. Practitioners do not need to wade through all the acts, amendments and regulations to find out the current position as this book does it for them.
It deals with the main categories of offences including: up to date list of penalty point offences and fixed charge penalty offences, setting out the charges which can accrue under particular sections of Road Traffic Acts, applicable defences and the penalties that apply including disqualification periods. It also refers to relevant caselaw in respect of drink driving case, and contains reference to the provisions of the new Road Traffic Act 2010.
The Road Traffic Law Handbook contains:-
Details of an offences commonly presented in court, with pertinent analysis
Relevant case law - particularly in respect to drink driving offences
Main offences contained in the Road Acts 1961-2006
Main provisions of the Road Traffic Act 2010
Charges which accrue under particular sections of Road Traffic Ads
Details of appeal processes and applications
This is a relevant and time-saving handbook for all solicitors and barristers who present road traffic cases in court. Those who have little knowledge of road traffic law, but are asked to represent existing clients in such cases, will also find this an excellent guide and a first point of reference.
Contact Us
Contact Us
LegalBooks.ie
Legal & General Shop
The Law Society Building
The Four Courts
Dublin 7
01 8725522
info@legalbooks.ie
D07 N972

VAT number: IE4814267p


Payment & Security
Your payment information is processed securely. We do not store credit card details nor have access to your credit card information.