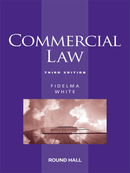 Description
Previous Edition ISBN: 9781858006321
Author: Fidelma White
ISBN13: 9780414089501
Published: October 2021
Publisher: Round Hall Press
This new 3rd edition includes developments in legislation and case law since the last edition, from Ireland, the EU and other important common law jurisdictions, not least the UK, as well as various proposals for reform which would impact on a wide variety of aspects of commercial law. In particular, such developments include:
In Part 1 Introduction: developments in the e-commerce framework (e.g. the eIDAS Regulation) and Irish contract law, including in relation to the implication of terms in commercial contracts and unfair terms in consumer contracts.
In Part 2 Agency: recent developments in Irish, UK and EU case law, for example, in relation to apparent authority and the self-employed commercial agents directive (Directive 86/653).
In Part 3 Sale of Goods, etc.: important developments include Irish Supreme Court and Court of Appeal decisions on sale of goods, including on the meaning of merchantable quality and the use of retention of title clauses, as well as the new Directives on digital content and services (Directive 2019/770) and consumer sales (Directive 2019/771) to be transposed by 1 January 2022.
In Part 4 on Finance: see in particular the EU (Payment Services) Regulations 2018 and the growing body of case law on undue influence and guarantees.
Part 5 on Insurance has been updated to take account of the Consumer Insurance Contracts Act 2019 and the EU (Insurance Distribution) Regulations 2018.
In Part 6 on International Trade developments include Incoterms 2020 and move towards the further digitalisation of trade documents.
In Part 7 on IP: there have been significant developments including new copyright legislation (Copyright and Other Intellectual Property Provisions Act 2019); the new unitary EU patent regime (EU Regulations 1257/2012 and 1260/2012) and the TM reform package (Trademarks Directive 2015/2436 and Trademark Regulation 2015/2424), as well as significant developments in case law.
In Part 8 on Dispute Resolution: the growing body of case law on the Arbitration Act 2010, as well as the Mediation Regulation 2011, the Mediation Act 2017; and the ongoing review of civil procedures rules
Fidelma White is a Senior Lecturer in Law at University College Cork. She was a member of the Sales Law Review Group (2008–2011) established to advise the Minister on reform of the law of sale of goods and related transactions; the Consumer Law Advisory Group to advise on the formulation of new consumer legislation (2012–2015) and the Attorney General's Working Group on the Consumer Rights Bill 2021, as well as numerous EU research projects. She has researched and written on various aspects of Irish, English and EU commercial and consumer law.
Contents:
Preface
Table of Contents
Table of Cases
Table of Legislation
1. Introduction to Commercial Law
2. Agency
3. Sale of Goods and Supply of Services
4. Finance
5. Principles of Insurance Law
6. International Trade Law
7. Intellectual Property Law
8. Commercial Dispute Resolution
Appendices
Index
Contact Us
Contact Us
LegalBooks.ie
Legal & General Shop
The Law Society Building
The Four Courts
Dublin 7
01 8725522
info@legalbooks.ie
D07 N972

VAT number: IE4814267p


Payment & Security
Your payment information is processed securely. We do not store credit card details nor have access to your credit card information.