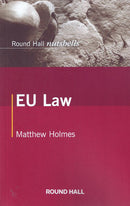 Description
Author : Matthew Holmes
Publisher: Round Hall
Publication Date: 21/02/2017
ISBN: 9780414060999
Jurisdiction: Ireland

Round Hall Nutshells is a series of books presenting the essentials of the law in clear, straightforward language. Designed with the busy student in mind, the Nutshell is perfect for exam preparation, with brief, clear explanations of key exam topics throughout.

This book summarises the essential components of EU law for students and lawyers. It is a user-friendly and concise guide that will be an invaluable study aid or quick reference book.


This text offers:

*The basics of EU law, including an overview of the history and institutions of the EU as well as the doctrines and procedures of EU law
*A concise, up-to-date guide to EU law?specially tailored for those topics favoured by examiners
*Thorough guidance on the sources and types of EU law including direct effect, supremacy, preliminary references, judicial review, enforcement of EU law, EU citizenship and the free movement of goods, services, establishment, persons and capital
*An explanation of the basic principles, important cases, directives and regulations
*Revision of the core taught/examined area in EU Law

By both introducing and revising the law, this text is specifically tailored to both cover the basics of EU law for examination purposes and simplify this complex subject area for legal practitioners.


The Author:

Matthew Holmes, BCL, LLM, (KCL), AKC, BL (Kings Inns, Middle Temple, Bar of Northern Ireland) is a practising barrister who has taught EU law in UCD and DIT. He is the author of the Round Hall Nutshell on Administrative Law.
Contact Us
Contact Us
LegalBooks.ie
Legal & General Shop
The Law Society Building
The Four Courts
Dublin 7
01 8725522
info@legalbooks.ie
D07 N972

VAT number: IE4814267p


Payment & Security
Your payment information is processed securely. We do not store credit card details nor have access to your credit card information.